GB judo: Winston Gordon criticises chairman Densign White

By Ben Dirs
BBC Sport at ExCel Arena
Last updated on .From the section Olympics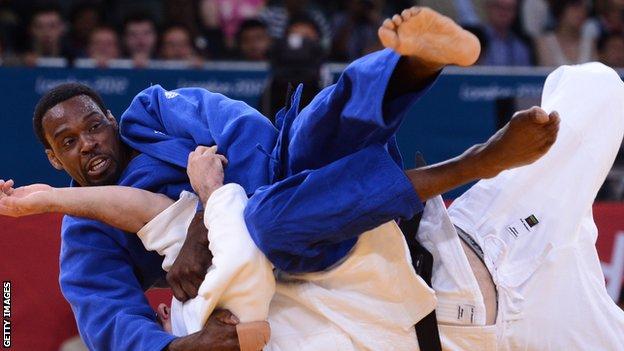 British Olympic veteran Winston Gordon has criticised British Judo Association leadership under Densign White, saying things need to be "shaken up".
GB have endured a poor Olympics so far and Gordon, 35, lost in the last 16 of the men's under-90kgs.
"My grandmother told me there is a saying: when a fish rots, it rots from the head," Gordon said.
"I hope the new chairman coming in [White steps down after the Olympics] shakes a few feathers."
White has claimed some of the elite fighters have missed a once-in-a-lifetime opportunity to become Olympic champion at London 2012, with only Colin Oates so far making it into the afternoon medal blocks before finishing seventh.
He pointed to the lack of commitment from athletes to the centralisation plan for the British Performance Institute at Dartford.
"If someone is coming out with those comments, then they have to look on themselves and see what they have done to help everything else come through," Gordon, a three-time Olympian, added.
"They are the ones who employ the coaches. Centralisation can work, but you need to get everybody under the roof, all the coaches from the regional clubs, one or two of the players, sitting around the mat and have a big discussion on how we can go forwards."
On Thursday, Greenwich-born Gemma Gibbons fights at under-78kg against 2011 European bronze medallist Yahima Ramirez of Portugal.
James Austin opens in the under-100kgs against Japan's third seed, Takamasa Anai, the 2010 World Champion.