Olympic Swimming: Michael Jamieson eyes Glasgow gold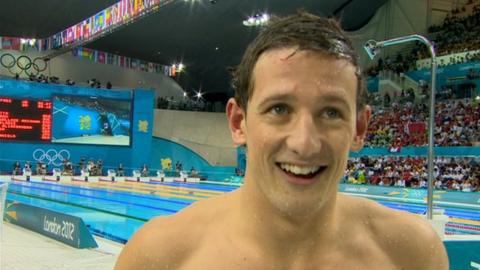 Newly crowned Olympic silver medallist Michael Jamieson has set his sights on winning Commonwealth gold in his home town of Glasgow in two years' time after his success in London on Wednesday evening.
Jamieson produced the swim of his life - breaking the British record he had set in the heats - to just miss out on 200m breaststroke gold behind Hungary's world record-breaking Daniel Gyurta.
Having earlier seen Bradley Wiggins and the women's pair of Helen Glover and Heather Stanning win Britain's first two gold medals of the 2012 Olympics, Jamieson said: "It's been a great day for GB all-round.
"Hopefully it has lifted the whole team and we can kick on and move up that medals table. I have Glasgow to look forward to, which is a something of a homecoming, and I'm going there to win."
Jamieson, a lifelong Celtic fan, was delighted to discover his medal-winning swim had been cheered on by his fellow fans at Celtic Park.
"That was pretty special," said the 23-year-old.
"I got a message to say my race would be shown ahead of the Champions League qualifier so I knew I had to deliver."
Jamieson's medal was the first by a British male in the pool at an Olympics since Steve Parry took 200m butterfly bronze in Athens in 2004.
And the reception the Briton got from a partisan 17,000-strong crowd, which included both Prince Harry and comedian-turned-charity swimmer David Walliams, brought the arena alive after a disappointing week so far for homegrown swimmers.
Jamieson, now based in the West Country with fellow finalist Andrew Willis, said: "My family have been designing banners for the last few weeks and I spotted them straight away.
"It's great for them to be there, especially team-mates, family and friends - the team-mates I swim with in Bath.
"There are a couple of them with more talent than I have who could push for medals but couldn't make it [to compete] so it was important for me that they were here.
"It's been quite spectacular. I can only thank everyone. It's just been really overwhelming.
"In the last 18 months I think getting a medal here has become a bit of a target.
"Before that it was always a just a pipe dream. But I was pretty relaxed in the call room and I think that's because I have played it over in my head so many times - being here for this occasion and walking out for this final.
"I knew I could swim fast tonight and I was just hoping that would be enough for the podium.
"I will have some time to unwind and hopefully get to see some of the other sports next week. I'm just going to lap this experience up."