GB Sailing: Ben Ainslie's path to glory blocked by Great Dane

By Rob Hodgetts
BBC Sport at the Olympic sailing, Weymouth
Last updated on .From the section Olympics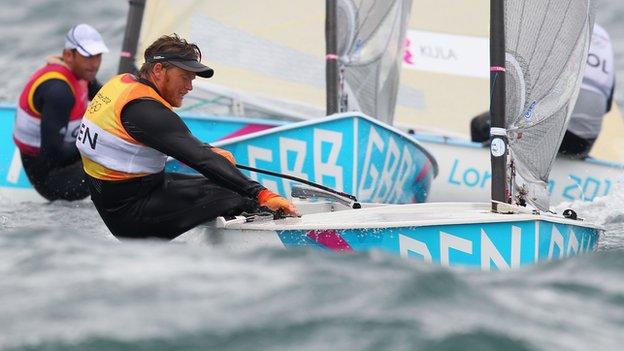 Ben Ainslie came into the London Olympics with a Danish sailor at the back of his mind.
Halfway through his quest for a fourth gold medal, there is another Dane at the forefront of his thinking.
Victory for Ainslie, to go with the silver he won in Atlanta, would take him past Denmark's Paul Elvstrom as the most decorated Olympic sailor ever. Elvstrom won four golds from 1948-1960.
But in the Briton's way is Elvstrom's 31-year-old countryman Jonas Hogh-Christensen, who has surprised with his speed to take a stranglehold on the Finn class.
Ainslie has yet to finish in front of Hogh-Christensen, who is on leave from his job as a concert promoter, and has a distinct battle on his hands as the Finn regatta enters the latter stages.
The popular view is that Ainslie, who was hot favourite for gold, will do what he always does and grind down his opponent with single-minded focus, tenacious tactics and superior speed.
So far, though, the fastest man on the track has been bearded red-head Hogh-Christensen.
"I don't think it's a shock, but I wouldn't have been banking on him before the event," GB sailing boss Stephen Park said.
"He's managed to find that bit of extra speed and is now probably fairly confident, but we're going into the second half of the regatta and the Olympic rings do strange things to people when the pressure comes on."
Ainslie's competitive instincts are legendary. As a 19-year-old, he almost beat revered Brazilian Robert Scheidt, the accepted favourite for Laser gold in Atlanta. Four years later, he famously took on Scheidt in a ferocious duel in the final race, sailing him to the back of the fleet to clinch gold.
Having switched to the Finn for Athens, Ainslie arguably fought his way out of his biggest hole, having begun with a ninth and then a disqualification after a protest against him was upheld. He also shrugged off a bout of mumps to win a third gold in Beijing and has bagged six Finn world titles along the way.
"If there is anyone you can bank on in those situations, it is Ben," Park said. "He's done it plenty of times before and that pressure is going to come on Jonas now. We'll see whether he deserves a gold medal or not.
"But as I have been saying for months, the difference between the top teams is very small. You only need to make one little mistake.
"It's easy for people to think Ben just rocks up and wins every regatta, but if he's not on his game or someone sails a bit better then suddenly it all becomes a bit harder. That's the situation here. But Ben's still in the running. There is still a long way to go."
The problem, according to two-times gold medallist and BBC commentator Shirley Robertson, is that Ainslie finds himself in a slightly different and unfamiliar situation.
"In Sydney, he used all his skills, tactics and aggression to just nail it," she said. "It was textbook.
"Here, he's up against someone who is quicker. Jonas has found something special in these stronger winds. It's quite hard to control someone who is faster.
"The heart says Ben will get through it like he always has. The head says, 'Hang on, look at the results, he's not beaten him once yet'."
Ainslie is one of the smaller sailors in the heavyweight Finn fleet and excels in lighter breezes. But, windy or not, Hogh-Christensen is no flash in the pan.
The Dane is a two-times Finn world champion, was third behind Ainslie at the recent Finn Worlds in Falmouth and is competing in his third Olympics having come sixth in Beijing and ninth in Athens. His father sailed in the Star class at the 1980 Games.
"I've always had the feeling I could beat Ben on my best day," Hogh-Christensen said. "If I can keep that up, there's a good chance I can win. I'm a bit surprised it is going this well, but I always thought I had it in me. I guess I did."
Ainslie insists, in public at least, he will just focus on his own performance until it gets down to Sunday's final medal race, when finishing positions count for double points.
"He's sailing the regatta of his life and all I can do is the best I can and hope he might slip up," he said of Hogh-Christensen. "At some point, the tables have got to turn."
Ainslie will be mindful, too, of the challenge behind him. But anything less than gold will be considered a failure, so Hogh-Christensen can expect to feel the full intensity of the Briton's iron will over the next few days.
"Ben is going to start looking for him on the start line and it won't be for a friendly chat," BBC sailing commentator Richard Simmonds said. "It's how Jonas deals with the stare of a three-times gold medallist."