Adam Gemili's Olympic pass has wrong picture
Last updated on .From the section Olympics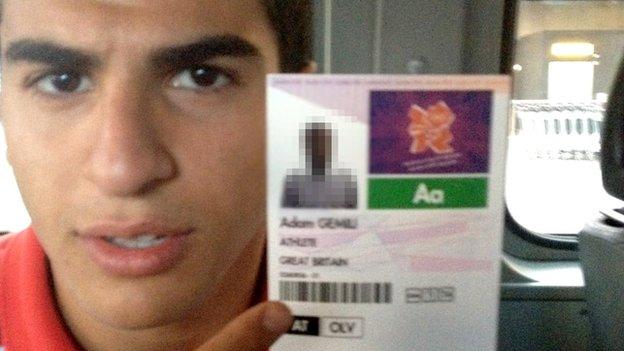 World junior 100m champion Adam Gemili was a relative unknown in the athletics world just six months ago.
And it appears the sprinter from London is still a bit of a mystery to some.
When the 18-year-old Briton was given his official Olympic accreditation on Wednesday, he was surprised to discover the photo on it was not him.
Gemili, who runs in the 100m heats on Saturday morning, tweeted: "My Olympic accreditation to get into the Games. Who even is this guy?!?!?"
Teenager Gemili was playing lower-league football as recently as last November before deciding to give athletics a go.
Once on the books of Premier League side Chelsea, his rise has been meteoric, claiming a place in Britain's 100m squad for London 2012 and winning the World Junior Championships in Barcelona.
His time of 10.05 seconds in Spain made him the second-fastest European this year, behind France's Christophe Lemaitre.
American Tyson Gay, a rival to Olympic champion Usain Bolt in the 100m in London, has tipped Gemili to become one of the greatest sprinters of all time.
It is not the first time the wrong photo of Gemili has popped up.
The same picture was supplied to broadcasters as part of the official feed of Olympic data - and briefly appeared on the BBC Sport website last month before being replaced.
British Olympic Association deputy chef de mission, Sir Clive Woodward, told BBC Sport: "It's happened a few times to be fair and I've tried to meet most athletes when they arrive to solve any problems.
"It is a big issue from a security point of view as the picture has to match the person so I know we've dealt with it as it came to us last night."
Gemili has been in Portugal with the rest of the GB athletes as he prepares for his Olympic debut.
A Team GB official said his accreditation photo would be changed as soon as he got to the Olympic Village.