Olympics athletics: Pundits pick who will star for Great Britain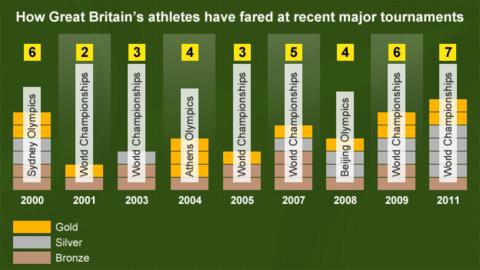 British athletics head coach Charles van Commenee has set a target of eight medals at London 2012.
The last time GB won eight athletics medals was back in 1988 in Seoul and the target is double what was achieved in Beijing four years ago.
So what gives Van Commenee such confidence this time out?
Britain has enjoyed a flurry of success on the global stage in the past couple of seasons, including two golds and seven medals in total at last year's World Championships in Daegu.
That was followed by second place in the medals table at the World Indoor Championships - Britain's highest ever position.
But can Britain do it on the biggest sporting stage of all? BBC Sport's athletics experts give their verdict.
Steve Cram, 1984 Olympic 1500m silver medallist
Medal prediction: Eight
"Van Commenee's target of eight is genuinely achievable. He's predicted one gold, but I think we'll get more. Jessica Ennis is in a great position in the heptathlon and distance runner Mo Farah is in great shape, as is 400m hurdler Dai Greene. They represent Britain's best chance of gold.
"As well as those three, we have a whole bunch of athletes like triple jumper Phillips Idowu, reigning Olympic 400m champion Christine Ohuruogu and long jumper Greg Rutherford in contention for medals. Also, Yamile Aldama in the triple jump."
GB star on the track: "Mo and Jess. Why? Because our own athletes look up to them but so too does the rest of the world. If Mo and Jess deliver great performances on Saturday 4 August when they have a chance to win a medal it will lift the whole team, so it's great having them on early."
GB star in the field: "Lawrence Okoye (discus) and Holly Bleasdale (pole vault). One of the things Van Commenee has talked about is new athletes coming through to build towards the Rio Games and Okoye and Bleasdale, both British record holders, are prime examples."
Global star: "David Rushida. The Kenyan 800m world champion could try and break his own world record, which doesn't happen very often."
Denise Lewis, 2000 Olympic heptathlon champion
Medal prediction: Nine
"We've got a team that could surprise everyone. Van Commenee wants one gold but I'd be a bit disappointed with just one.
"The squad's attitude is very healthy. Jess Ennis can kick-start it all with success on the opening day.
"Britain has struggled with depth in the last few Games but on this occasion we've got a great range of athletes. Names like Bleasdale, Shara Proctor (long jump) and Aldama are bound to feature for GB.
"Although you can't give all the credit to the head coach, he's made an environment that is performance-orientated where it's up to the individual to fall in line."
GB star on the track: "Perri Shakes-Drayton. The 400m hurdles runner needs to really believe in herself. If she can just cut another two tenths of a second off her personal-best time she's got a chance. We saw a glimmer of what she's capable of at the London Diamond League."
GB star in the field: "Aldama. The 40-year-old mother of two who has persevered through adversity. I've watched her train and I've never seen someone so naturally gifted at jumping."
Global star: "Tirunesh Dibaba. The reigning Olympic 5,000m and 10,000m champion is back and running well. She'll have to be against the woman of the moment, Vivian Cheruiyot, who raced to double World Championship gold last year. It promises to be a duel and-a-half."
Jonathan Edwards, 2000 Olympic triple jump champion
Medal prediction: Six or seven
"We have a substantial list of athletes who can win a medal. I don't remember Britain going into a Games with so many shots at standing on top of the podium.
"The last four years have been excellent for British athletics. Head coach Van Commenee will not accept mediocrity and has brought discipline and accountability into the squad. The talent has always been there but Charles has given us a lean, mean approach.
"If you look back at our Olympic athletics history, success has mainly been on the track but suddenly we have this strength in field events. People like Bleasdale, Okoye, Aldama and Proctor have a real chance."
GB star on the track: "Mo. His 10,000m final on Saturday will be the most electric 27 minutes of the Games. The general public love him - his warmth, his humility. He's a real British hero."
GB star in the field: "It's got to be Ennis. She'll be the golden girl if she wins the heptathlon."
Global star: "Australian hurdler Sally Pearson has got that girl next door quality yet is one of the best 100m hurdlers of all time. She could be the darling of these Games."