Olympics track cycling: Will technology win the war for GB?

By Ollie Williams
BBC Sport at the Olympic Park
Last updated on .From the section Olympics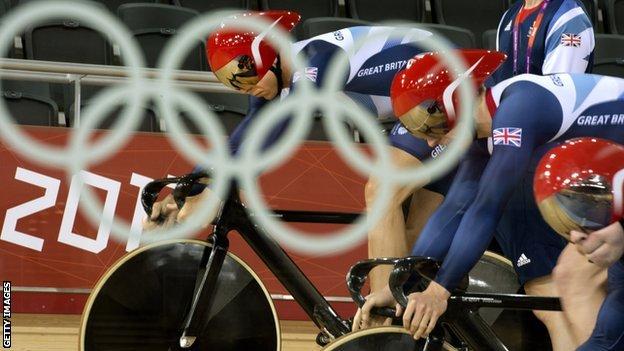 Can technology win you Olympic gold medals?
It certainly helps. Britain's track cyclists know that much from Beijing 2008, where a raft of innovations were credited with boosting the team's impressive haul to seven gold medals.
Chris Boardman, who won Olympic and world titles on the track for Britain in the 1990s, will step down from his post as the cycling team's head of research and development after London 2012, but not before having masterminded the latest quantum leap in cycling technology.
He hopes the "marginal gains" mantra will once again give them a decisive edge inside London's Olympic Velodrome when racing begins.
With Boardman's help, we pick through the developments of the last four years to find out how cycling's war of wind tunnels might be won.
What happened in Beijing?
In short, Britain blew everyone away on the velodrome boards. Seven of the 10 gold medals on offer went to Team GB, and the media coverage made it plain that those medals owed an element to the equipment - from skinsuits to bike frames, tyres and helmets - sported by the riders.
"There was a lot of press about the technology. Because of all the medals people were like, 'Blimey, they've won everything,' and looking for reasons," says Boardman.
The skinsuits worn by the British team received much of that press, especially when performance director Dave Brailsford intimated after the Games that they had been destroyed to prevent their technological advantage falling into rival hands.
"We got them back and they were shredded as we believe the technology will hold well for 2012," Brailsford was quoted as saying in early 2009. Cycling's world governing body, the UCI, did not react well.
"The suits weren't shredded, although it was a great rumour," said Boardman. "I loved it. They're sitting in a box in a store room somewhere.
"This time around, the suits are made of more conventional lycra materials. A lot of work has gone into the clothing, but the UCI has seen both the prototypes and the finished article. They're happy. It really did spook them when they heard that story after Beijing."
What's new about the bikes this time?
Every detail of the bike has been examined: handlebars, forks, saddles, anything with the potential to affect a rider's aerodynamics.
The British team has used computational fluid dynamics (CFD), a technique which harnesses computer processing power to model airflows and see how even the tiniest change to a bike will affect how the air behaves around it.
First, the frames. "I've been working with carbon fibre for 15 years and I think it's really cool, sexy stuff to look at. It personifies high-tech," says Boardman, admiring Victoria Pendleton's sprint bike.
"It's thin, light and incredibly strong. There's a minimum weight limit of 6.8kg - the bike cannot go below that - but we've used CFD to pick out all the right shapes for the tubes and handlebars."
He is particularly proud of the cranks, which attach the pedals to the axles. "They don't look too special to anybody else, but they're actually hollow and made with 180 separate pieces of carbon fibre," he says.
"To strength-test them, we took one and hung the equivalent of a lift full of people off it. It's 200 grams lighter than others but it still didn't break. It's two-and-a-half times stiffer than anything else in the market."
The saddle has also come under scrutiny. The G-forces experienced by riders in the velodrome were doing enough damage to cost the team valuable training hours through injury, so the team looked at how the saddle might help.
"The new saddle was developed over two years. It's a very special shape that makes sure the riders aren't getting injured and can do more training time," says Boardman.
The list of innovations could go on, but other key developments include refining the solid back wheel to make the "wake" of air behind the bike as small as possible and tyres of silk to help them hold more pressure - 14 atmospheres compared to three in the average car tyre.
What about clothing?
The helmet is a vital element of a rider's wardrobe. It must be light and aerodynamic but also protect the athlete.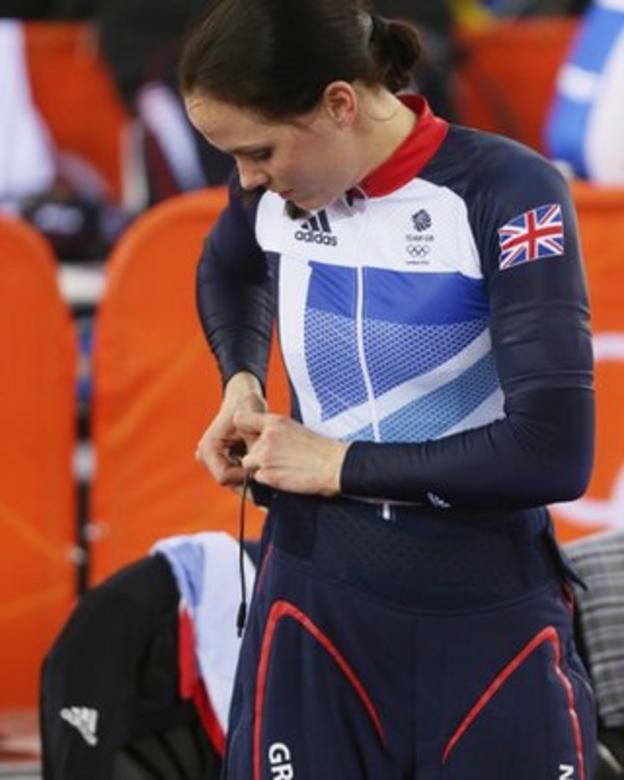 "The inside of the helmet is quite cool," says Boardman. "Rather than using foam - as in a normal helmet - we use aluminium honeycomb, which is fantastically good at absorbing impacts and is super-light. So we can also make it smaller as well."
But advances in clothing are not limited to the gear riders actually wear on the track.
"One idea - and it's so good I can't believe nobody's thought of it - is 'hot pants'," smiles Boardman, before elaborating.
"When riders go on the rollers before a race, they are trying to warm up their muscle temperature. But, because of the practicalities of racing, they have to stop about 10 minutes before the race to prepare and be in the right place.
"Muscles cool down really quickly, so we now give them these pants when they get off the rollers that are heated to about 35 degrees. They keep them on until the moment they get on the track.
"It's the track cycling version of tyre warmers in F1. From here on, I think we're going to see that become a standard piece of equipment."
Can you change the way the riders ride?
Extensive use of wind tunnels has helped show the top British riders how they can make small tweaks to their position on the bike in return for sizeable gains in time and aerodynamics.
"The riders are totally involved in the process and they understand the value of it," says Boardman.
"They've all been to the wind tunnel to look at their position. A tiny change to their elbow can mean more than changing the entire bike. But they won't make changes lightly, so we take them to the wind tunnel to prove to them the benefits.
"When they see the difference, they'll force themselves into a more uncomfortable position if it seems faster, then make an informed decision about where to draw the line between efficiency and aerodynamics."
What are other countries doing?
Most, if not all, track cycling nations are now engaged in some form of technological research and development.
Researchers in Australia, for example, have developed their own form of wind tunnel specifically designed to cater for a full four-person team pursuit line-up, which they have used to study airflow over the entire quartet while racing.
But is Boardman not concerned that this high-tech warfare will put some countries at a disadvantage? "Well, I'd like to think so," he laughs. "We haven't done our job if they're not."
Is all the technology legal?
Boardman is at pains to insist that every single component part deployed on a GB bike or rider at the Games has been vetted by the UCI and passed fit for use.
"We know what the rules are," he says. "Our job is to butt up against those rules. After the furore in Beijing, all of this stuff has been in front of the UCI. They're completely happy.
"All the equipment has to have a UCI stamp on it to say it's been seen and approved. The other thing," he says, gesturing at Pendleton's bike, "is the rules say all of this stuff must now be for sale. You could go to the UK Sport website and purchase one of these if you wanted to."
Really? For how much? "This one? Around £20,000."