Bradley Wiggins: Twelve months from shed to gold

By Matt Slater
BBC sport at Hampton Court Palace
Last updated on .From the section Olympics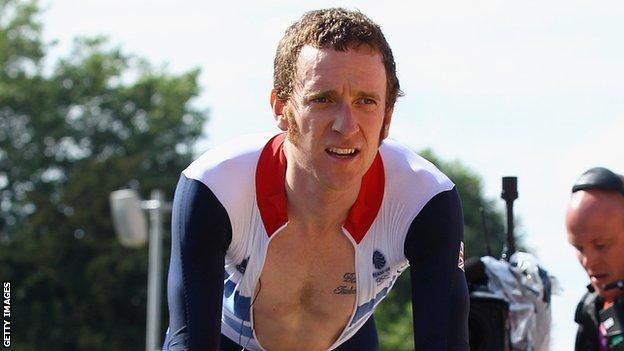 This time last year, the soon-to-be-knighted (if there is any consistency to these things) Bradley Wiggins was spending a lot of time in his garden shed.
The Tour de France had finished a week or so before, but his race had come to a sudden conclusion a couple of weeks earlier. A crash on the way to Chateauroux left him in an untidy heap on the road, with a broken collarbone.
This was both painful and annoying, as the British cyclist was in the best shape of his already impressive career. The problem was getting anybody to believe him.
The people who mattered - his family, friends and coaches - did, but that is because they knew how hard he had been working since the relative disappointment of the 2010 Tour, his first after a big-money move to the new British outfit Team Sky.
The wider cycling world? Not so much. But then they did not know what he was doing in that shed in the Lancashire village of Eccleston.
Desperate to rescue what was left of the 2011 season, determined to reap the rewards of a winter training schedule like no other he had ever endured, Wiggins strapped up his shoulder, put his bike on the rollers and pedalled his frustrations away.
Within weeks he was on his way to securing his best result in one of cycling's Grand Tours, a third-place finish at the Vuelta, before finishing the year with a silver medal from the time trial at the World Championships.
That "defeat" in Copenhagen is pretty much the last race Wiggins has lost. The 32-year-old's list of results since then is not just remarkable, it is unprecedented.
Another winter of hard, systematic training led to a spring campaign that saw him win two of Europe's most prestigious week-long races. Now the cycling world was starting to believe him.
And then, in June, Wiggins and his Team Sky colleagues dominated the Criterium de Dauphine, a traditional indicator of Tour form. He had also won this race in 2011.
But nobody had ever triumphed in these three races on the bounce before, and underpinning all of them was his form against the clock in long time trials.
There is a reason for this: underneath the amiable, bloke-next-door, likes-a-laugh, family-man exterior, is a stone-cold competitor. He might crave an ordinary life, but Wiggins is an extraordinary man.
Speaking at a packed media conference after collecting his fourth Olympic gold on Wednesday, Wiggins gave a hint at what makes him so very unusual.
Sat to his right in a room at Hampton Court Palace, was the man who beat him in that world championship time trial last September, Tony Martin. The man he had just beat over 44km through south west London.
The German rider was practically invincible in 2011, having taken the time trial mantle from the defending Olympic and four-time world champion Fabian Cancellara.
But Wiggins was not overawed by these two superlative talents.
"For many years, Fabian raised the bar and everybody was chasing him," Wiggins explained.
"It probably peaked for him at the 2009 Worlds, when he annihilated the field, and we said, 'how are we going to beat this guy?'
"Now, you can either give up at that point ... or you can say, 'this guy is an incredible athlete, let's look at what he's doing'.
"Tony was obviously saying the same thing, and he closed the gap on Fabian and then went past him.
"So at last year's Worlds we were all a long way behind Tony. But that's what sport is about."
The details of this process are not really the point - the hours spent changing his cadence, or pedal speed; the conditioning work to improve his power-to-weight ratio; the experimentation with equipment and positioning on the bike - what is important is that when faced with not one, but two potential legends, he took notes and tried harder.
This is why Wiggins was able to come back from that 24th-place finish in the 2010 Tour, and the crash in 2011, to become the first British rider to win the Tour de France, the first Tour winner to win an Olympic gold in the same season, and the first Brit to win seven Olympic medals, surpassing Sir Steve Redgrave's six.
The ever-modest Londoner did not seem too impressed with that accolade - "it is all about the golds really, so the important statistic is four, not seven" - and he laughed off our attempts to knight him on the spot - "it would be an honour but I'd probably keep it in the drawer, I'll always be Brad" - but he did admit to being proud of one thing.
"To win another Olympic gold in another event, yeah, I'm really proud of that," said the "trackie" who became a superstar on the road, too.
"A medal in the Madison (in 2004), a couple in the individual pursuit, the team pursuit (bronze in 2000, silver in 2004 and gold in 2008): it's nice to be good at a bit of everything."
Just good, Brad? Not the greatest of all time, perhaps?
At time of writing, a stamp has been minted, bookies have started paying out on this year's BBC Sports Personality of the Year Award and Twitter is juggling the relative merits of what Wiggins has achieved, Redgrave's rowing, Seb Coe's running, Daley Thompson's versatility and other assorted comparisons.
Having already been named as the owner of "the most famous sideburns since Elvis Presley" by French newspaper L'Equipe, "Wiggo" can take or leave these subjective judgements, they are not his style.
What he does care about, however, is his sport.
"They keep banging on about legacy but ultimately it's the athletes who go out and perform who inspire the next generation," he told a room full of journalists who had already heard enough for half a dozen back-page leads.
"The great thing about cycling is that this facility here didn't cost anything to build. They didn't even resurface the road, it was terrible in places.
"So when this is all over anybody can go ride that circuit and pretend they're one of us. That's the great thing with cycling, anybody can do it."
That much is true, but only Wiggo has done it like Wiggo.