Olympics boxing: Lennox Lewis on Anthony Joshua & Luke Campbell

By Lennox Lewis
Former world heavyweight champion and BBC pundit
Last updated on .From the section Olympics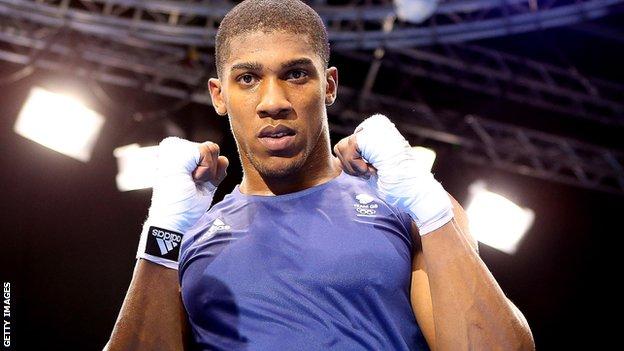 I watched Anthony Joshua beat Erislandy Savon in the super-heavyweight division. It was a close-run thing and could have gone either way. But I think Anthony deserved the victory - and I'm glad it went Great Britain's way.
Cuban Savon is a good fighter and he's got a lot of experience for someone who is only 22.
People have to understand that Anthony had been waiting around for a week, so he was bound to be a bit nervous and tight.
And what about that crowd at the ExCel! They were fabulous all night, but when Anthony came in, they were really roaring. Then they suddenly went really quiet. Pros are used to this atmosphere but for these guys it's something different.
What Anthony did well was throw the left-right combination, he was able to hit the Cuban quite easily with that, especially in the second round. He was also able to stay away from Savon's looping hooks.
But the last round was a bit iffy for Anthony. He was following the Cuban, not catching him and being given the run-around - Savon was a very slick mover. But he was able to get it done and I'm sure he'll be better in the next fight, now he's got rid of his tightness and nerves.
Anthony has got a lot of raw talent, great power and a lot of potential. Now all those things need to be harnessed to make him more of a complete fighter.
He reminds me of myself to a certain degree, although I was like a combination of Anthony Joshua and Erislandy Savon: I had great movement and great punching ability.
I've left Anthony alone while the Olympics have been on but I spoke to him a couple of weeks ago and sent him a couple of emails. I told him to be calm, that it was his time and reminded him it was his house. Then I told him to make sure he goes in there and cleans the house up. I think he could do just that.
I wasn't really that impressed by the Chinese guy he faces next - Zhilei Zhang - because I thought he was losing his fight until the Australian guy, Johan Linde, lost focus, left himself open, and got caught with a big right hand.
As we know with these super-heavyweights, it only takes one shot to change history, and that's what happened to the Australian guy.
I was impressed with bantamweight Luke Campbell. He's a classical fighter, he throws punches from long range and he's got a good right hook.
It was a messy fight against the Italian [Campbell beat Jahyn Parrinello 11-9] and, as a southpaw, he has to learn to keep that right foot on the outside of orthodox boxers. If not, you end up getting your feet tangled up - that's what happened on Wednesday night.
But you'll get those types of fights when you're a tall boxer and you're a southpaw. Luke will get better, too, and I think he has what it takes to win the gold.