Olympics football: Players can be worthy Olympians
By Paul Fletcher
BBC Sport at the Millennium Stadium
Last updated on .From the section Olympics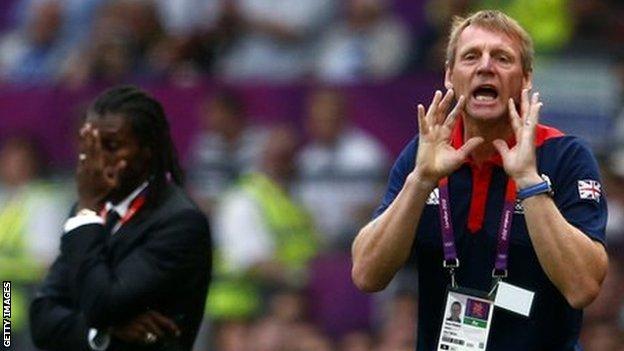 Even from high in the stands at the Millennium Stadium, the disappointment was clear to see.
Uruguay skipper Luis Suarez fell to his knees as the final whistle signalled his team's elimination from the Olympic football tournament and he did not move until Matias Aguirregaray ran over to haul him up from the turf.
It showed how much Olympic football mattered to the Liverpool striker, who was denied several times during his team's 1-0 defeat by Great Britain in Cardiff on Wednesday evening.
This was the first Olympics since 1928 when Uruguay had participated in the football tournament and they were determined to do well. After all, both Uruguay's gold medals came in the football competition, in 1924 and 1928.
Earlier this year their coach Oscar Tabarez had described the chance to play in the Olympics as a "gift of life". He had shown his players grainy footage from those tournaments back in the 1920s to try to build a link with the past.
Uruguay arrived at the Olympics with the full support of their nation, but unlike the 2010 World Cup, when the senior team reached the last four, matters on the pitch have been a crushing disappointment.
One win and two defeats from a group they were expected to win; failing to break down Senegal despite a one-man advantage for an hour; no goals for the much-vaunted strikeforce of Suarez and Napoli's Edinson Cavani - it really could not have gone much worse.
GB have had to contend with a slightly different problem. The whole concept of entering a Great Britain football team at the Games for the first time since 1960 has been treated with scepticism and loathing since it was first suggested.
The Football Associations of Wales, Scotland and Northern Ireland voiced their opposition, fearing it would damage their standing within world football's governing body Fifa.
And since the men's football tournament began last Thursday it has been something of an Olympic sideshow, an intriguing curiosity. Certainly, for a football tournament in this country there has been relatively little press coverage.
Coach Stuart Pearce looked at the seven journalists who bothered to attend his media briefing the day before his team's opening group game against Senegal and said they might as well have met in his hotel room. There were even fewer when he spoke to the media again the day before the Uruguay match.
There has been more column inches about players singing - or not - God save the Queen than there has about the actual football.
Opponents of the men's competition point out that for all sports participating at the Games the Olympics should be the pinnacle. This is obviously not the case with men's football, which is effectively an Under-23 competition, with three over-age players allowed in each squad of 18.
And yet the numbers that have turned out to support GB suggest there is an appetite to see a united football team at the Olympics. An impressive 227,751 supporters have attended GB's three group games in Manchester, London and Cardiff.
It had been said that many of the Welsh fans inside the stadium in Cardiff would boo God Save the Queen. Nonsense. The crowd belted it out and backed their team with a passion that any fanbase would be happy to claim.
The atmosphere was superb as GB attempted to hold their slender advantage and a desperate Uruguay pushed forward. You could feel the tension and the crowd kicked every ball and headed every defensive clearance. There was a desperation and desire emanating down from the stands.
The players and coaching staff have maintained all along how much they are enjoying the experience of being involved in the Games.
"We have all felt part of it, especially after having the experience of being in the village," said Pearce, who added that his team had been inspired by the victory of the women's team against Brazil on Wednesday and the gold medals won by Bradley Wiggins in the cycling and Helen Glover and Heather Stanning in the rowing.
Bellamy, one of four Welsh players in the starting XI on Thursday, echoed Pearce's sentiments.
"It has been a pleasure to be involved with it," said the Liverpool forward. "I have got behind every sport and we are just a tiny little fraction of this but it has been fantastic."
And while Uruguay never really got going in the tournament, GB have steadily improved. The size of their task was put in sharp focus when they were defeated 2-0 by Brazil in a friendly before the starts of the Games.
But as Pearce argued on Thursday, his team's fitness and understanding have improved game-by-game. They still look shaky in defence but, to give them due credit, have just conceded twice in three matches. Goalkeeper Jack Butland has been sensational, midfielder Aaron Ramsey was excellent against Uruguay and Sturridge scored his second in as many games as he improves his match sharpness after recovering from meningitis.
If Pearce's team had lost against Uruguay their failure might have closed the debate on whether there should be a GB men's football team beyond these Olympics.
But they can now look forward to a winnable quarter-final tie against South Korea - and beyond that a possible semi-final tie against Brazil.
And Pearce, so careful with his words when discussing the GB team, is starting to sound bullish.
"We have only ever prepared to win the tournament," said the former England defender.
And if his side do win a medal then some of the cynics might grudgingly admit that the 18-man football squad are indeed worthy to be called Olympians.