Olympics football: Luis Suarez angry at Uruguay anthem boos
Last updated on .From the section Olympics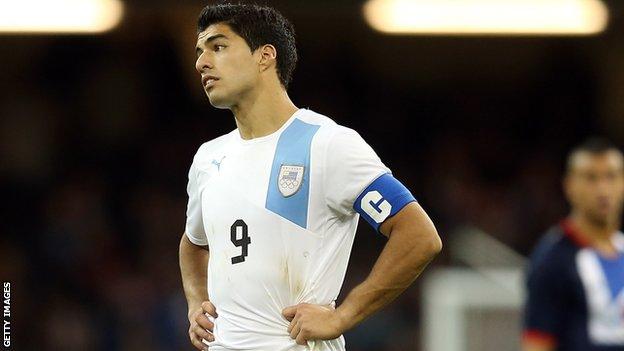 Uruguay striker Luis Suarez has criticised British fans after some booed during his side's national anthem.
The Liverpool frontman was angry with the reception before Britain won 1-0 at the Millennium Stadium.
He said: "I can take the abuse, I don't mind. But I think it was a total lack of respect from the crowd to boo when we were trying to sing our anthem.
"I'm hurt because we lost and we are going home."
There was booing during the anthem - but only when Suarez's face appeared on the big screen.
Uruguay were knocked out of the competition as a result of the defeat and Suarez felt the behaviour of some supporters was unacceptable.
He added: "They jeer me and they boo me here because they must be scared of facing a player like me. They fear me, but that doesn't affect me."
Before the game, Welsh striker and captain for the night Craig Bellamy by the Cardiff crowd.
He said at the time: "Every national anthem [should be respected]. It doesn't matter if it is your worst enemy, it's just one or two minutes and you should be quiet and respect it."