Olympics badminton: Coaches of disqualified players face probe
Last updated on .From the section Olympics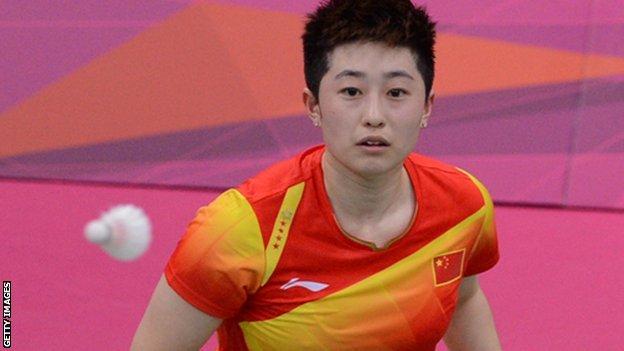 The coaches of eight badminton players who were disqualified from the Olympics women's doubles event are to be investigated.
The International Olympic Committee has asked China, South Korea and Indonesia to look into the role of the coaches in the match-throwing scandal.
"It's important to make sure it's not just the athletes that are punished," said IOC spokesman Mark Adams.
One of those athletes, China's Yu Yang, has said she is now quitting badminton.
Yang and her partner Xiaoli Wang on Wednesday for "not using one's best efforts to win a match".
Two pairs from South Korea and one from Indonesia were also disqualified for making errors in Tuesday's matches.
The eight players all conceded points on purpose in their final group matches in an attempt to manipulate the draw for the knockout stage of the event at Wembley Arena.
The round-robin format was introduced for the London Games and the Badminton World Federation will now also review video footage of all pool matches at the tournament.
The introduction of a round-robin stage in the Games meant that losing one game could lead to an easier match in the next round.
British Olympic Association chairman Lord Moynihan said the format now needed to be investigated
He said: "It is unacceptable for any athlete not to give it their best.
"I don't think it is wise to have a format which could create the environment and conditions [for that to happen] and I'm sure the BWF will have to look at the implications of this."
Chinese Olympic officials have already demanded that the players involved in the scandal "reflect deeply on it" and "publicly apologise".
But the drama has already been too much for Yang, who said on her Twitter-like Weibo account: "This is my last time competing. Goodbye beloved badminton."
Wang also posted comments on her Weibo, saying that the players were being made to pay the price for problems with the new competition rules.
''What you've cancelled is not just a game, but my dream!'' she said.
China's badminton coach Li Yongbo said he should take the blame for the incident, which Chinese state media said "violates the Olympic spirit of fair competition".
"As head coach, I owe the supporters of Chinese badminton and the Chinese TV audiences an apology," the Xinhua news agency quoted him as saying.
"Chinese players failed to demonstrate the fine tradition and fighting spirit of the national team. It's me to blame."
Their places in the last eight were taken by the pairs who finished third and fourth in the qualifying groups concerned.