Irish swimming: Melanie Nocher way below best in heats
Last updated on .From the section Olympics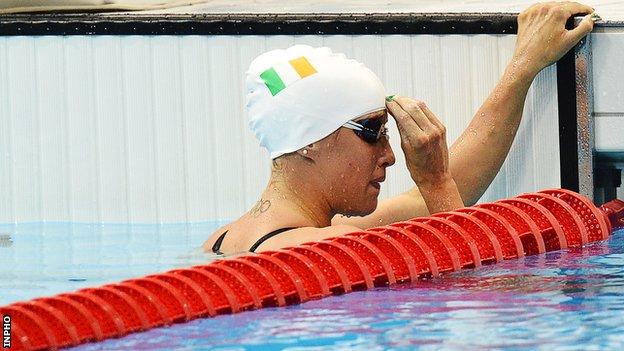 Melanie Nocher exited from the Olympics in disappointing fashion after being over five seconds outside her personal best in the 200m backstroke heats.
Nocher's time of 2:16:29 left her seventh in her heat as she was way outside the 2:10.75 that she produced at this year's European Championships.
The Holywood woman looked extremely upset after her heat.
The 24-year-old Irish team member later said that she had been suffering from a stomach bug since Sunday.
"I gave it my best. I have had gastroenteritis since Sunday so have been feeling anything but good," said Nocher on Twitter.
"It's so much harder when the people you love tell you they are proud of you after such a devastating result."
Barry Murphy missed out on a place in the semi-finals of the 50m freestyle after clocking 22.76 in his heat.
The Dubliner's time was .62secs outside the Irish record he set during the era of the now-illegal fast swimming suits.
Holywood woman Nocher finished third in her 100m backstroke heat in 1.02.44 on Sunday which left her 33rd overall in that event.
That time was .52secs outside her personal best for the event.
However, that swim was a creditable effort in comparison to her performance on Thursday which left her 34th overall.