Heather Watson upset to miss London 2012 mixed doubles
Last updated on .From the section Olympics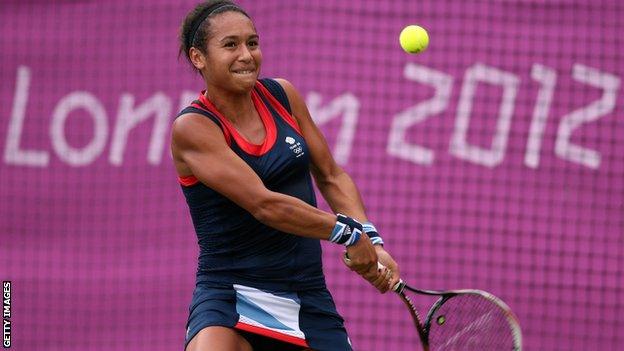 Heather Watson is unhappy that she was not picked for Team GB's mixed doubles at the London Olympics.
She did not get a place in the mixed doubles, as the lower-ranked Robson was picked to play with Andy Murray.
"I thought based on merit and where I'd got my ranking to, and winning a doubles title last season, I'd be the one to be picked," she said.
"But it wasn't my decision so there's not much I can do about it," she told BBC Guernsey.
But she says the Olympics still had a positive effect on her and was something which she had never experienced before.
"It was absolutely amazing, it was everything I imagined it to be.
"It's so different to other tournaments, the crowds are different, they were amazing and were cheering so loud.
"It was more of a Davis Cup feel rather than playing a tournament."
And she added that the chance to represent Team GB was one that should would like to repeat in four years time.
"It was a great experience, I was gutted that it was over, but I'm so glad to be part of this huge team and representing Great Britain and I'm looking forward to Rio.
"Everything about this experience has been one-in-a-lifetime amazing.
"You can't describe it, you have to be a part of it to know what it feels like."