Olympics 2012: Team GB athletes at London Games Day Six
Last updated on .From the section Olympics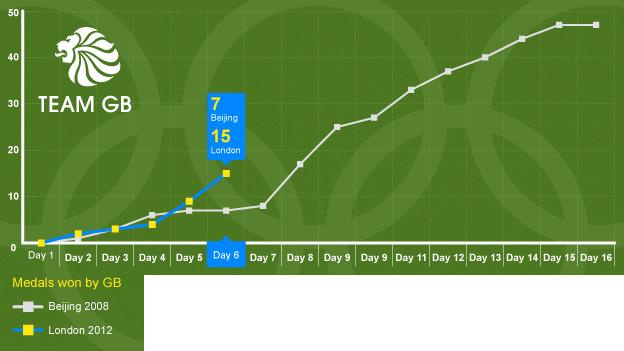 A sport-by-sport round-up of how every Team GB athlete performed on Day Six of the 2012 Olympic Games in London.
Britain finished the day on a total of 15 medals, compared with seven at this stage at Beijing in 2008, and were fifth in the medal table.
BASKETBALL
Team GB lose by a single point to Spain in their third group match. Great Britain dominate the final quarter but just fall short with the final score 79-78.
BEACH VOLLEYBALL
Shauna Mullin and Zara Dampney are beaten 2-0 by Ekaterina Khomyakova and Evgeniya Ukolova of Russia in their final match of the preliminary round finishing third in Group F.
BOXING
Anthony Ogogo causes an upset as he beats world champion Ievgen Khytrov of Ukraine in the last 16 of the men's middleweight. The score finishes 18-18 but Ogogo is declared the winner after countback.
Josh Taylor loses his last 16 fight in the men's lightweight against Domenico Valentino. The final score is 15-10.
CANOE SLALOM
Tim Baillie and Etienne Stott win GOLD in the men's C2 canoe double with a score of 106.41. David Florence and Richard Hounslow complete a British one-two by taking the SILVER with a score of 106.77.
Lizzie Neave finishes 12th in the women's kayak single K1 with a score of 117.30 and goes out.
CYCLING
Chris Hoy, Jason Kenny and Philip Hindes win GOLD in the men's team sprint and break the world record they had set in the heats with a time of 42.600 seconds.
World champions Ed Clancy, Geraint Thomas, Steven Burke and Peter Kennaugh set a new world record of three minutes 52.499 seconds and are fastest in the men's team pursuit qualification.
Victoria Pendleton and Jess Varnish are relegated from the first round of the women's team sprint and do not race for a medal. The pair briefly set a new world record of 32.526 seconds in qualification only to have it beaten minutes later by the Chinese.
EQUESTRIAN
Carl Hester riding Uthopia leads the individual dressage after 25 riders with a score of 77.720. Just behind in second place is Laura Bechtolsheimer on Mistral Hojris with 76.839. Hester, Bechtolsheimer and Charlotte Dujardin lead the team event. Dujardin and Richard Davison, who rides as an individual, compete on Friday.
FENCING
In the women's team foil, the trio of Anna Bentley, Natalia Sheppard and Sophie Troiano are out, losing to Italy 42-14 in the quarter-finals. Earlier they beat Egypt 45-34.
GYMNASTICS
In the individual all-around final,Rebecca Tunney finishes 13th, with Hannah Whelan finishing in 24th place.
HANDBALL
Argentina beat Great Britain 32-21 in the men's preliminaries, GB's third defeat so far.
HOCKEY
The Great Britain women's side beat Belgium 3-0 in their third Group A match, maintaining their 100% record and keeping them top of the group.
JUDO
Gemma Gibbons takes Britain's first judo medal since Sydney 2000, a SILVER in the -78kg final after losing 2-0 to Kayla Harrison of the United States. On her route to the final she beats Audrey Tcheumeo of France in the semi-final by an ippon. She also wins 1-0 against Marhinde Verkerk of Netherlands in their quarter-final, beats Mongolia's Lkhamdegd Purevjargal two yuko to one in the last 16 and sees off 2011 European bronze medallist Yahima Ramirez of Portugal by an ippon in the round of 32.
James Austin goes out of the men's -100kg to 2010 world champion Takamasa Anai of Japan, losing 1-0.
ROWING
Rob Williams, Chris Bartley, Peter Chambers and Richard Chambers take SILVER in the men's lightweight four with a time of 6:03.09, just beaten by South Africa in a thrilling final 500m.
Alex Gregory, Pete Reed, Tom James and Andrew Triggs Hodge come from behind to beat their main rivals Australia and win semi-final one of the men's four in 5:58.26.
Sophie Hosking and Katherine Copeland produce a tremendous last 500m to win their semi-final of the women's lightweight double sculls in 7:05.90.
Zac Purchase and Mark Hunter win the second semi-final of the men's lightweight double sculls in 6.36.62 and go into the final second fastest overall. This result means all 13 British boats are through to their finals.
Bill Lucas and Sam Townsend cannot match the pace of winners New Zealand and are beaten into fifth place in the final of the men's double sculls, with a time of 6:40.54.
in their final in 6:18.77, with United States, favourites for the event, taking gold.
SAILING
Iain Percy and Andrew Simpson stay first overall in the men's Star as they win race seven in 1:12.08 and are second in race eight behind Sweden.
Ben Ainslie is second overall in the men's Finn as he wins race seven in 58:34 and is third in race eight with a time of 59:18.
Stevie Morrison and Ben Rhodes win races seven and eight of the men's 49er, which puts them second overall, 11 points behind favourites Australia.
Luke Patience and Stuart Bithell come second in the opening race of the men's 470 and go on to win the second in 54:57. They are first in the overall standings.
In their Elliot 6m round robin match Great Britain's women beat Sweden and sit joint fifth overall.
Bryony Shaw lies seventh overall after races five and six in the women's RS-X.
Nick Dempsey wins race six after coming 10th in race five to sit fourth overall in the men's RS-X.
SHOOTING
Peter Wilson wins GOLD in the men's double trap with a score of 188, two shots clear of Sweden's Hakan Dahlby.
Richard Faulds is placed 12th in qualification of the men's double trap with 133 and goes out.
SWIMMING
Fran Halsall finishes sixth in an incredibly tight women's 100m freestyle final with a time of 53.66 seconds.
James Goddard comes seventh in the men's 200m individual medley final with a time of 1:59.05.
Lizzie Simmonds finishes fifth in the semi-final of the women's 200m backstroke, and qualifies for the final on Friday night with a time of 2:08.48.Stephanie Proud comes fourth in the other semi-final, but her time of 2:09.04 means she misses out.
Defending champion Rebecca Adlington wins her heat of the 800m freestyle in 8:21.78 and qualifies fastest for the final. Ellie Faulkner is sixth in her heat in a time of 8:38.00 and goes out.
Adam Brown comes seventh in heat six of the men's 50m freestyle in 22.39 and is out.
Michael Rock and Anthony James are out of the men's 100m butterfly after finishing their heats in seventh (52.56) and last (53.25) respectively.
TENNIS
Andy Murray beats Nicolas Almagro of Spain 6-4 6-1 in less than an hour to reach the Olympic singles semi-finals where he will face Novak Djokovic.
Murray joins Laura Robson for the mixed doubles and the pair win their first-round match 7-5 6-7 (7-9) 10-7.
VOLLEYBALL
Britain's men lose their third group match against Italy 3-0. Great Britain's third defeat in a row leaves them bottom of Group A.
WATER POLO
Britain's men lose 13-7 to USA, leaving the home side bottom of Group B after three matches.