Geraint Thomas' legacy felt in his home city
Last updated on .From the section Olympics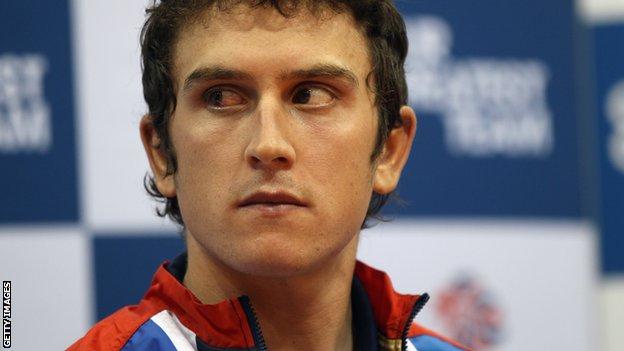 London's 2012 slogan 'inspire a generation' could have been made for Wales' Geraint Thomas.
The Cardiff cyclist, who won Olympic gold in the 2008 team pursuit and who is a three-times world champion, is already a noted role model in his home city.
The 26-year-old may be one of Great Britain's heroes and world renowned but his success is arguably felt most deeply at Maindy Flyers Club, where he rode until he was 16.
Alan Davies, Maindy Flyers' Club coach, is no doubt of the influence of Thomas in south Wales.
"Geraint has been a terrific inspiration," said Davies, who remembers Thomas starting with the club at the tender age of "10 or 11".
"It shows the kids what you can do with talent and dedication."
Thomas is a regular visitor back to the club where his rare talent was first discovered and always has words of encouragement for the young cyclists there, says Davies.
Davies can still remember when Thomas first caught the cycling bug and when the Maindy club realised he was such a special talent.
"I can remember we went out for a road ride early one Sunday morning to Newport and back, but it was the buzz he and my son got that lit the fuse for cycling for him," said Davies.
"Then, I remember when he became a junior at 16 and he had won everything, and he went out on his first road race as junior - which is a step up from 20 miles to 70 miles - and he rode away from the field and won.
"That was when we all went: 'Wow! This boy has got it and is going to make it to the very top'."
There was no looking back after that. Thomas won a gold medal at Beijing, is a three-time world champion and has lowered the team pursuit world record on numerous occasions.
Thomas has established his reputation on the road and wore the young riders' white jersey in Tour de France in 2010 and 2011.
He has promised the 2012 Olympics is set to be his track swansong and he will return to the road for good after the London Games.