Team GB's London 2012 roll of honour - silver medals
Last updated on .From the section Olympics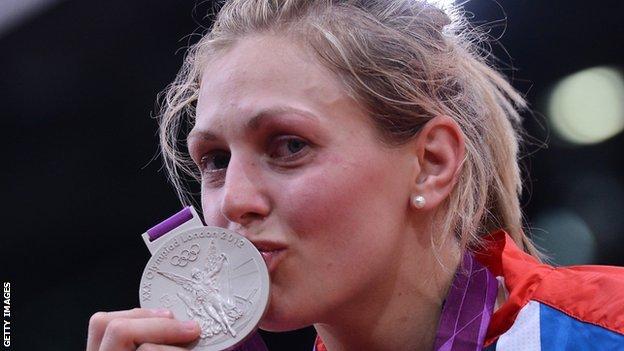 SILVER
How she did it: The London-born judoka had to settle for silver as American Kayla Harrison landed two yuko scores in the 78kg final. The world number 33 is now Great Britain's first Judo medalist in 12 years.
What she said: "It doesn't really seem real at the minute but amazing. The crowd were absolutely amazing. I wish I could have got the gold for them but unfortunately it wasn't to be. It's taken a lot of hard work and dedication. I hope it does a lot for GB judo."
Interesting fact: Gemma Gibbons does not look at the draw for her 78kg weight at competitions until the morning she fights, usually after the weigh-in and breakfast.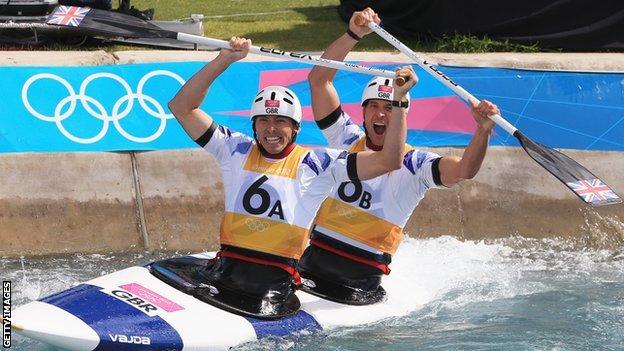 DAVID FLORENCE & RICHARD HOUNSLOW
How they did it: David Florence and Richard Hounslow take silver in the Canoe Slalom men's double as team-mates Tim Baillie and Etienne Stott claimed Britain's first ever gold in the event.
World number nine pair Florence and Hounslow were the fastest in the semi-finals and therefore had the honour of going last. They were up on the lead time until the final sector, but just missed out to take their first Olympic silver as a pair.
What they said: "We were just pleased to put in a good run and give it our best. Okay, it was close to the gold but fair play Tim and Etienne were better than us today and it is fantastic for British canoeing." David Florence
"We can't be disappointed, a silver medal at the home Olympic Games with our good friends and countrymen getting gold. It's absolutely fantastic. We are one Team GB so everything they do is felt by the rest of the team so them winning gold and us silver, is a great feeling for both of us." Richard Hounslow
Interesting fact: Before the 2008 Olympic Games Florence applied to become an astronaut in response to an advert he had seen, and was so serious about it that he began learning Russian but was not one of the four people selected by the European Space Agency.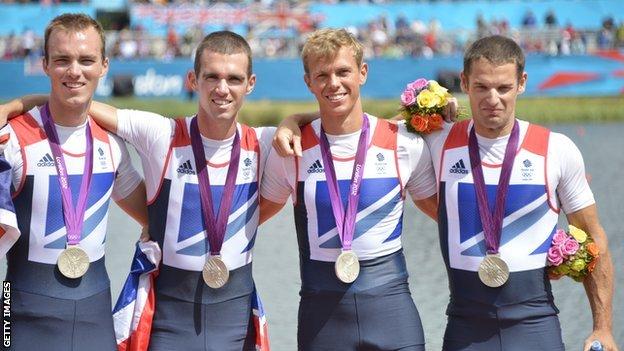 BARTLEY - R CHAMBERS - P CHAMBERS - WILLIAMS
How they did it: Starting as favourites, Team GB sat in third place for much of the 2,000m with Denmark out in front. Entering the final 500m they made a push for the lead but, in a tight finish, were pipped by South Africa who came from the back to take their first Olympic rowing gold. Denmark, leaders for almost the entire race, had to settle for the bronze.
What they said: "That was really, really brutal. We were just fighting, fighting through the whole thing to get ourselves back into contention." Richard Chambers
"We are gutted. We were unlucky to get a silver with those conditions. We're delighted with silver but we wanted to get gold. Fair play to the South Africans, they won that fair and square." Peter Chambers
Interesting fact: The Chambers duo became the first British brothers to win an Olympic medal since Greg and Jonny Searle took bronze in the coxless four at the 1996 Atlanta Olympics.
How he did it: Jamieson did everything he could possibly do, but Hungary's Daniel Gyurta held him off, breaking the world record in the process.
What he said: "I'm absolutely delighted to be on the podium. I had to have something left coming off that last wall. After last night I thought I could win it and I know I could get on the podium. I couldn't have done any more, and I've done another personal best. The support brought me home in that last 50."
Interesting facts: Britain's Jamieson broke the British record in the final with a time of 2:07.43. His mother was also a competitive swimmer and his father played professional football for Hearts amongst other clubs.
COOK - FOX-PITT - KING - PHILLIPS - WILSON
How they did it: A Great Britain team including the Queen's grand-daughter Zara Phillips, finished behind Germany following a dramatic tussle with New Zealand. Holding a narrow lead over the Kiwis as the last riders prepared to go, Tina Cook sealed second place by collecting just one penalty.
What they said: "We are all being carried along on this wave of craziness. This is something we have never experienced in our careers and never will again. It's just not normal." William Fox-Pitt
"It feels like a silver medal won; it was a very tough competition. When we came here there were five nations that felt they had the capability of winning gold. We're like any athletes - we wanted the gold but we're very pleased to have a silver." Tina Cook
Interesting fact: Zara Phillips received her medal from her mother Princess Anne, who competed in the 1976 Olympics in Montreal. Her father, Captain Mark Phillips, was a member of the British three-day eventing team that won gold in Munich in 1972.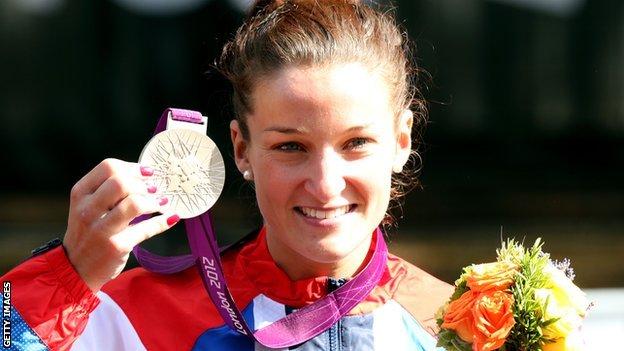 How she did it: Bronze medallist Russian Olga Zabelinskaya instigated a breakaway with 25km to go and Armitstead and Marianne Vos of the Netherlands went with her, eventually leaving the Russian behind. In a race for the finish Armitstead attacked Vos on The Mall but the Dutch rider had too much power and took gold in a thrilling rain-soaked 140km race.
What she said: "I'm so glad I committed to that break. I was umming and aahing but I'm really happy I went with it. I should've jumped earlier in the sprint, but never mind."
Interesting fact: Armitstead won five medals at the track cycling World Championships in 2009 and 2010 before making the switch to road racing.