China and Kazakhstan squabble over nationalities of London Olympic stars
By Ibraim Nurakunullu
BBC Kyrgyz
Last updated on .From the section Olympics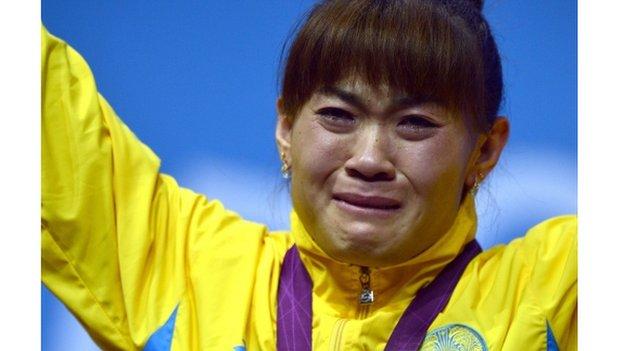 Kazakhstan has hit back at Chinese media reports claiming that two of the Central Asian country's medal winners are in fact Chinese.
Kazakhstan racked up an impressive three golds within the first four days of the games, with all winners belonging to ethnic minorities.
Road race winner Aleksandr Vinokourov is an ethnic Russian, while two women weightlifters, Maiya Maneza and Zulfia Chinshanlo, belong to the Dungan, a minority who come originally from north west China, but which also settled in Kyrgyzstan and Kazakhstan.
Kazakhstan is a nation with over 100 different ethnicities, and the government is often keen to point out that peace and harmony amongst these peoples is one its greatest priorities.
The oil-rich country is also fiercely proud, and long-term president Nursultan Nazarbayev has gone to great lengths to promote it on the global stage with high profile PR campaigns on international news channels.
So when the Chinese state news agency Xinhua claimed that the two weightlifters were in fact Chinese, the authorities accused their Eastern neighbours of poor sportsmanship.
Both athletes did live in China for an extended period, but left in 2007 to adopt Kazakhstani citizenship.
It is not unusual for sportsmen and women to compete for a country other than that of their birth, but the case of the Kazakh weightlifters has been further complicated by the fact that they were born in Kyrgyzstan, a country with little hope of bringing any medals home from London 2012.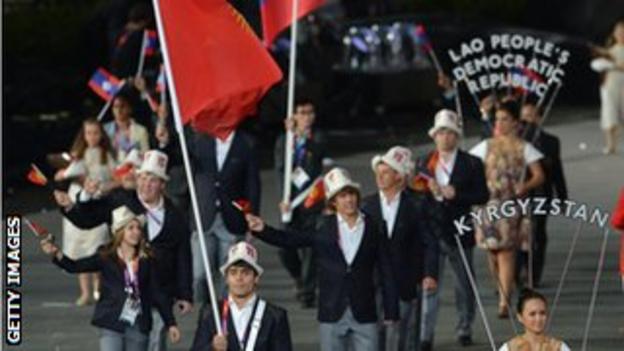 The Kazakhstan's Weightlifting Federation has confirmed that both Chishanlo and Maneza have registered their birth place as Bishkek, the capital of Kazakhstan's small, mountainous neighbour, according to spokesman Mendihan Tapsir.
Tapsir also says that the women were not particularly outstanding when they first joined Kazakh team.
"I can say that they were ordinary girls," he says. "Our specialists noticed their talent in weightlifting and started to train them. We all believed they will win in the London Games before they left for the Olympics."
Kazakhstan has send 114 athletes to the games and promised to reward each gold medallist with a $250,000 (£160,000) cash bonus.
Kyrgyzstan has sent 14 competitors to London 2012, but has little hope of any of them climbing the podium.