Olympic boxing: Iranian boxer Ali Mazaheri says defeat was 'a fix'
By Mahbod Ebrahimi
BBC Persian
Last updated on .From the section Olympics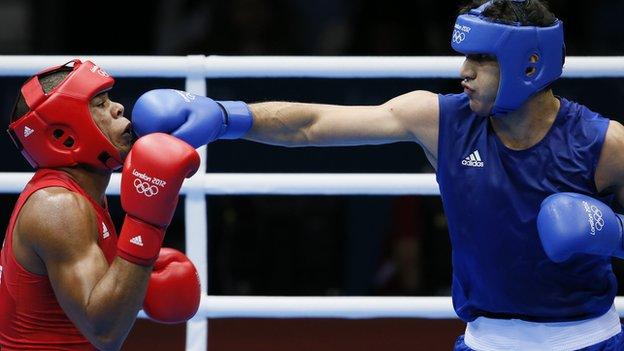 Iran's Ali Mazaheri has called his disqualification from the heavyweight boxing competition a "conspiracy".
He had been leading by two points going into the second round before being disqualified for persistent holding.
"It was a fix. I could have got a bronze easily if it hadn't been for that," an irate Mazaheri said after walking out of the ring before the decision was officially announced.
The Iranian authorities have appealed against the decision.
Mazaheri left the ring without shaking hands with his opponent, Cuba's Jose Larduet Gomez, and called the German referee Frank Scharmach's decision a "conspiracy".
"I have never seen such a thing in the world," he added.
"In my previous fights I had done really well. It was a set-up."
The International Amateur Boxing Association responded to Mazaheri's claims in an email sent to news agency Reuters, saying: "The Iranian boxer received three warnings during his bout.
"According to Rule 12.2.1 of the AIBA Technical and Competition Rules, 'only three warnings may be given to the same boxer in one contest. The third warning brings automatic disqualification'."
Mazaheri received three warnings in 56 seconds and stood with his arms outstretched after he was disqualified after the final warning.
He congratulated Larduet's coaches and climbed through the ropes without waiting for the decision to be announced, and refused to make contact with Scharmach.
"I wanted to keep boxing at least one more round," Larduet said. "He was a weird boxer. Tall, and a little dirty. He didn't want to shake my hand, but I don't care. I'm going to the quarter-finals."