London 2012: Brazil fans get inventive in hunt for tickets
Last updated on .From the section Olympics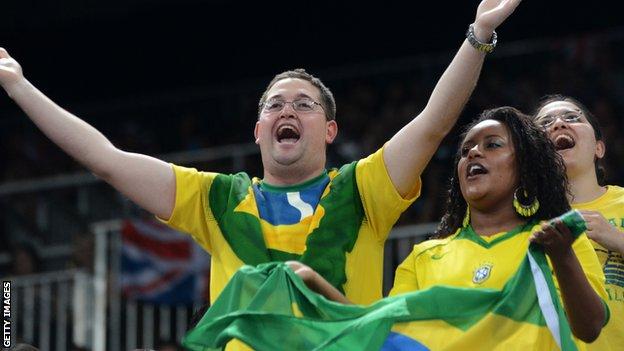 One of the first messages that visitors hear when they arrive at the gates of the Olympic Park, is "no tickets for sale at this location".
But this message - which is being patiently explained in foreign languages by the team hired to help visitors - is not stopping fans desperate to get into the Games.
Wrapped in the flag of Brazil, Jader Segato, an engineer and childhood friend of the swimmer Cesar Cielo carried a card last Wednesday saying: "I need tickets. Friday. Swimming."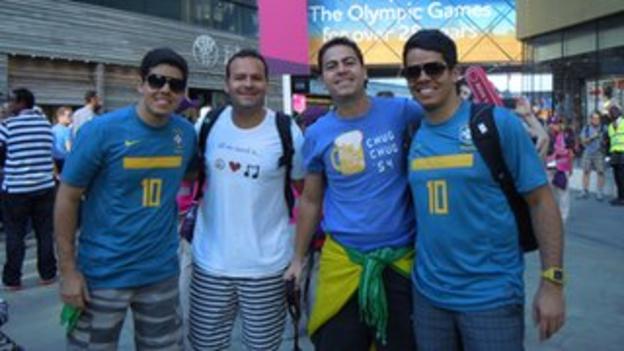 The card was made with wooden sticks used to stir coffee sold by kiosks near the Olympic Park. The appeal was written on a sheet of notebook paper.
"I tried to buy tickets when tickets were put on sale officially, but could not. There are even relatives of Cielo without tickets," he told BBC Brasil.
Segato's advertising soon paid off as a Chinese spectator sold him spare swimming tickets for a third of the official price.
Bruno Camargo from Sao Paulo adopted a similar strategy, swapping basketball tickets so he could support Brazil in the swimming events.
Other Brazilians - such as Gabriel Jorio and his friends - tried their luck in the hope of seeing Cielo swim, but some were not as successful, even though the Aquatics Centre still had some empty seats.
has become major concern for the organisers of the London Olympics.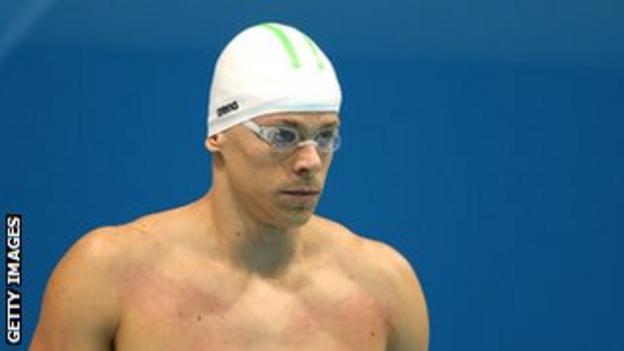 Non-residents, however, can only buy from the official re-seller for their country - which in the case of the Brazilian is Tamoyos lnternational.
Brazilian fans who flew to London without tickets have had to wake up early to queue at the headquarters of Tamoyos at Kingsway Hall Hotel.
But the number of tickets held by Tamoyos is not enough to meet the last-minute demand.
Some have gone to the stadiums and the Olympic Park despite Games officials saying they will not find tickets.
"A good strategy, especially if you're alone, is getting close to where the people who made the purchase online collect your ticket - because sometimes they have a friend who could not come," says Jorio.
Despite the heavy police presence, at least one ticket tout approached a group of visitors while they were being interviewed by BBC Brasil offering tickets more expensive than their face value. Others said they too had been approached.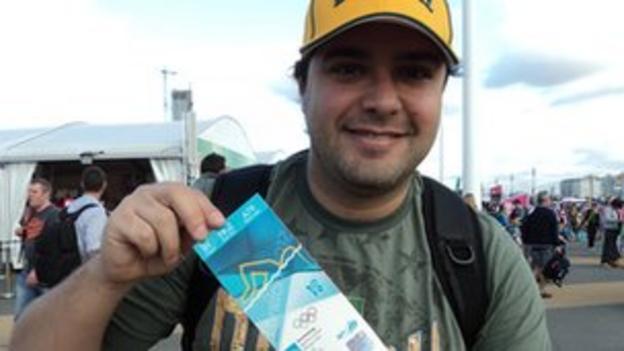 According to Tamayo, Brazilians bought a total of 50,000 tickets for the London Olympics, up by 32,000 tickets bought for Beijing.
But Rio resident Marcio Castello, who managed to buy 30 tickets, says there is still no system in place to swap tickets for events where there are no Brazilian athletes to support.
"If Brazil did not qualify for the semi-final of a particular event I have a ticket for, I do not have much interest in going to this competition," he says.
"Supporters of other nationalities may also have tickets for an event their team isn't in but Brazil is - then it would be an interesting system to allow this exchange."
But the lack of an Olympic ticket swap-shop means that even Brazilians who are lucky enough to have Olympic tickets often don't turn up.
"I didn't go to three events," Castello admitted. "So in this case, these chairs were empty."