Irish sailing: Matt McGovern and Ryan Seaton remain ninth
Last updated on .From the section Olympics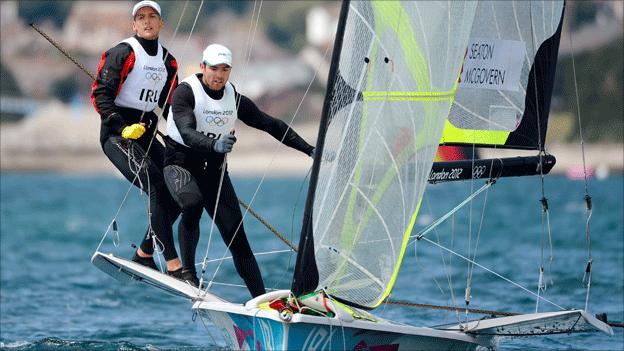 Matt McGovern and Ryan Seaton remain ninth in the 49er Sailing class at the Olympics after finishing 11th and ninth in their races on Thursday.
The Northern Ireland duo are competing well but their hopes of challenging for a medal look to be fading.
Peter O'Leary and David Burrows stay ninth in the Star Class after ninth and seventh places on Thursday.
Ger Owens and Scot Flanigan opened their 470 challenge with 18th and 25th places and are 23rd overall.
Ireland's big sailing medal hope Annalise Murphy had a rest day on Thursday and remains in first place with fives races to go in the series.
Bangor man James Espey was not racing in the Laser class on Thursday and he is 45th with four races remaining.