Olympics football: How its low profile has helped GB's men

By Paul Fletcher
BBC Sport
Last updated on .From the section Olympics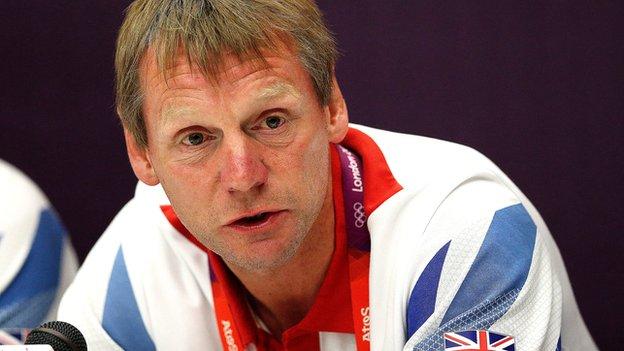 Great Britain coach Stuart Pearce believes that his team have benefited from the relatively low profile given to the men's football tournament at the Olympics.
Football is one of 26 sports at the 2012 Olympics and the men's competition is effectively an Under-23s tournament, with three overage players in each 18-man squad.
"There has been a level slant on the expectation on this team," said Pearce ahead of Saturday's quarter-final against South Korea.
"Probably that expectation level should be like that with the England national team in some ways."
GB have been very well supported, with large attendances at Old Trafford, Wembley and the Millennium Stadium for their three group fixtures.
But with the emphasis on so many other sports, whose pinnacle is participating at the Olympics, there has not been the same level of media attention on the men's football team.
"I think that has been good for us," insisted Pearce.
"We have kept under the radar but know the magnitude of what is in front of us. I think by getting out of the group we have achieved what people outside the squad expected of us.
"We've got a scenario now where we have got to advance further and the players are excited by that. They can see what we did on the training pitch a couple of weeks ago in Spain bearing fruit in match situations."
GB are participating in the men's football tournament for the first time since 1960 and Pearce has had relatively little time to mould his squad of 13 English players and five Welshmen.
But his side have progressed game-by-game, both in terms of fitness and understanding. Forward Craig Bellamy and goalkeeper Jack Butland have been particularly impressive, while the form of striker Daniel Sturridge has steadily improved as he recovers from meningitis.
Support for GB was particularly passionate in Cardiff on Wednesday as they held off highly fancied Uruguay to claim the 1-0 victory that ensured they finished top of Group A.
Even so, the women's GB team - who are in an open-age competition - have arguably been the success story so far in Olympic football after winning all three group games, including victory over Brazil in front of more than 70,000 at Wembley.
Hope Powell's side take on Canada in Coventry on Friday before Pearce's team return to action in Cardiff on Saturday.
And Pearce is starting to sound increasingly bullish about his own team's chances. While Powell claims qualifying from the group stage means her side have been an Olympic success, the men's coach said after the win over Uruguay that he had only ever prepared his side to win the tournament.
And if they defeat South Korea they will be guaranteed an opportunity to play for a medal, with a bronze match awaiting the two semi-final losers.
"We are hoping there are many more victories to come before the end of the Games," he said.
"I could lie to you and say we just take each game in isolation, but we know the magnitude of this next match - any team that advances into the semi-finals knows that they have got two bites at a medal.
"I think that is vitally important for all of the remaining teams. If you win your quarter-final, three out of four remaining sides come away with a medal.
"That's not cranking up the pressure on the players, that's the facts."
Pearce has managed Nottingham Forest and Manchester City, and is currently the boss of the England Under-21s team as well as GB coach. He is yet to win silverware as a manager and is hopeful that it will start at the Olympics.
"I still feel as though I am a young, developing manager with a lot to learn" said the 50-year-old.
"When the dust has settled on everything if you look at what Sir Alex Ferguson has won, what Arsene Wenger has won, you look at their CVs. I am no different to that
"I am desperate to win, maybe more so for the players than myself. I am quite unassuming when it comes to the accolades being thrown out, I am not interested in that.
"It is more for the players to step forward and if they end up with a medal in their pockets I will be delighted."
Arsenal midfielder Aaron Ramsey - the captain of Wales - said the squad were aware of the significance of the match against South Korea.
"Winning a medal would be up there with anything in my career," said the 21-year-old.
"We are going to try desperately hard to achieve that and that's what we are here for. We are looking to get a medal for ourselves and the country and if we win Saturday we'll have a great opportunity to do that."