Olympics canoeing: How Baillie and Stott came back from brink

By Ollie Williams
BBC Sport at the Olympic Park
Last updated on .From the section Olympics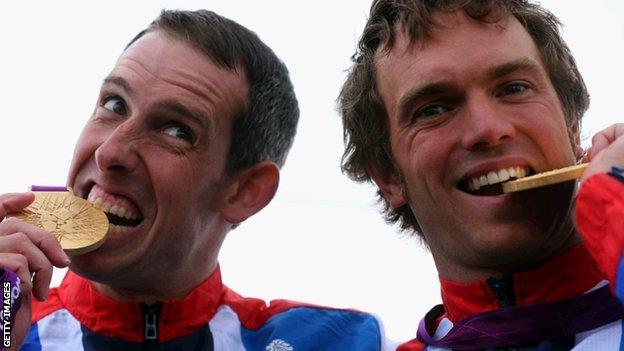 From their lowest ebb as write-offs with broken bones in the shadow of their team-mates, Tim Baillie and Etienne Stott have ridden a wave to Olympic stardom.
They became on Thursday, leading home David Florence and Richard Hounslow in a one-two.
Most Olympic champions label the moments after the win "surreal", but for Baillie and Stott this victory really is an astonishing switch from their status as career underdogs.
The two have been friends for more than a decade and are no newcomers to the world stage - they are both 33 and have been slogging away together at the two-man C2 event since the end of the Athens Olympics in 2004.
Precious little had gone to plan until now. Each of them suffered a serious injury blow in the build-up to London 2012: Baillie broke his collarbone in a mountain-biking accident, then Stott badly dislocated his shoulder paddling on the Olympic course.
Elite athletes who injure themselves taking part in sports other than their own often feel sheepish, to say the least, in the aftermath. Helen Reeves, Athens bronze medallist turned BBC commentator, remembers Baillie's reaction after his bike crash.
"Tim really beat himself up about it," she says, "and Etienne felt a bit… if not let down, then frustrated. That accident happened just before they were meant to go to Australia for training. Etienne was stuck on his own, in the cold, training in Nottingham.
"Then when Etienne dislocated his shoulder, they discovered a bone spur on his elbow and decided to shave that off at the same time. But the recovery took a lot longer than had been planned."
Mark Proctor, a GB team-mate and friend of the pair, remembers that as the moment their Olympic ambitions nearly drained away.
"I went round to Etienne's house two days after the surgery," recalls Proctor. "He was still high on the morphine but you could see it in his eyes: he thought the dream was over. He had been told it was possible he would never canoe again.
"To see what has happened to them since, over the last year - I was going to call it a miracle but it's not. It's hard work. Hard work gets results."
Baillie and Stott beat team-mates Florence and Hounslow in an unprecedented result for the sport, which also marked a turnaround in a long-standing rivalry.
Up until last year, both pairs thought only one place at the Olympic Games would be available between them. They fought tooth and nail. Florence and Hounslow were winning.
"David and Rich won a World Championship bronze medal in 2010 and were getting all the attention, which probably hit Tim and Etienne hard," says Reeves.
"Even in training it was always David and Rich coming out on top, to the point where Tim and Etienne became 'the second-best crew'. They had to keep themselves in check and not let it get them down."
Proctor adds: "For sure, there was tension. You'd never not get that, with one boat at the Olympics between four guys. Tim and Etienne were the top British boat in 2008. Then suddenly there's this new crew starting."
In 2009, fresh from winning Olympic silver in the one-man C1 boat at Beijing, Florence invited Hounslow - a one-man K1 kayak paddler - to start up a C2 boat with him. The idea was to do something historic in London: win two medals in separate events at the same Games.
"Tim and Etienne were kicked off their pedestal by David and Rich," continues Proctor. "Now they had competition when, up until then, there hadn't been any.
"They'd go training and there would be two people right up there pushing them. That's scary - it's downright upsetting at times - but it drives you on to better things. When one boat got a good result, the other tried to hit back instantly.
"They have come out of it so well. Now, they are not bothered about what David and Rich do any more, and that's such a strength, to not worry about your team-mates on the start line."
In mid-2011, the Olympic qualifying rules were published. A fascinating line of small print showed, for the first time, that Britain could get two boats into a C2 final.
The catch was that it could only happen if Florence and Hounslow won places at the Games in their individual events, the C1 and K1. If they qualified, Olympic organisers would let them team up in the C2 as a bonus British boat.
That is exactly what came to pass and Britain's canoeing fans went to the Olympics buoyant that, with five boats in four races, GB would deliver the goods. However, nobody reached the first three finals.
It came down to the C2. Florence and Hounslow were the feature attraction, but Baillie and Stott put down the winning run. In 24 hours, London 2012 went from a washout for GB Canoeing to a glorious one-two on live national television.
"Leaving it to the last minute has captivated everybody," says Reeves. "The response has been incredible. It will be really interesting to see where the sport goes from here."
Proctor adds: "It makes it more special when you know the guys and what has gone on - to know where they have been, what they have been through, this is a fairytale ending.
"The excitement you witnessed here? We see that month in, month out. Joe Public doesn't get to see this. It's awesome that everyone can see it now."