Olympics 2012: Team GB athletes at London Games Day Seven
Last updated on .From the section Olympics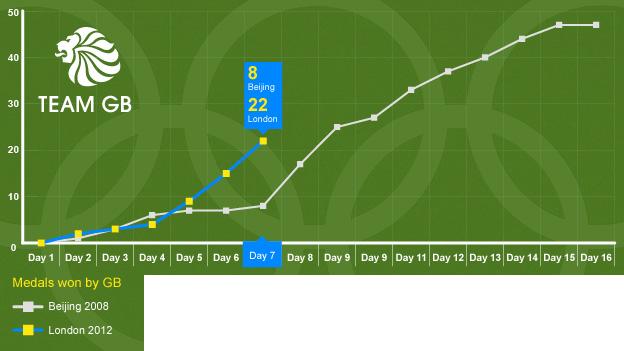 A sport-by-sport round-up of how every Team GB athlete performs on Day Seven of the 2012 Olympic Games in London.
Britain finished Day Seven on a total of 22 medals, compared with eight at this stage at Beijing in 2008, and were fourth in the medal table.
ARCHERY
Larry Godfrey is beaten 6-5 by Khairul Anuar Mohamad of Malaysia in the last 16 of the men's individual competition and goes out.
ATHLETICS
Jessica Ennis wins heat five of the women's heptathlon 100m hurdles in 12.58 seconds, a BRITISH RECORD and the fastest heptathlon 100m hurdles time ever. Louise Hazel comes fourth in 13.48 in heat three and Katarina Johnson-Thompson finishes heat four in fourth with 13.48, equalling her personal best.
In the heptathlon high jump Johnson-Thompson finishes in second place in group A with a personal best jump of 1.89m. Ennis is joint fifth clearing 1.86m. Hazel comes 18th in group B with 1.59m. Ennis leads the standings after two events with 2,249 points, with Johnson-Thompson in third place on 2,146.
In the shot put, Ennis finishes in eighth place in group A with a throw of 14.28m.Hazel finishes 10th in group B with a throw of 12.81m and Johnson-Thompson finishes 18th with 11.32m.Ennis is in second places in the standings after three events with 3,062 points. Johnson-Thompson in 20th on 2,762 points.
In the 200m, Ennis finishes joint first with a time 22.83 seconds, a personal best, with Johnson-Thompson finishing in fifth position. Hazel comes first in her heat with 24.48 seconds. After the first day of the event, Ennis is in first place in the standings on 4,158 points. Johnson-Thompson in 14th on 3,769 points and Hazel in 34th on 3,427 points.
Defending champion Christine Ohuruogu is second in heat one of the women's 400m with a time of 50.80secs. Shana Cox is third in heat two in 52.01 and Lee McConnell is third in heat five in 52.23. All three qualify for the semi-finals.
In the women's 10,000m final, Jo Pavey finishes 7th and Julia Bleasdale in 8th with times of 30:53.20 and 30:55.63 respectively.
Dai Greene is into the 400m hurdles semi-finals, winning his heat in 48.98. Rhys Williams also qualifies with a time of 49.17, as does Jack Green in 49.49.
Yamile Aldama, world indoor champion, makes short work of qualifying for the final of the women's triple jump with an opening leap of 14.45m.
Carl Myerscough's best throw of 18.95m in the qualifying round of the men's shot put leaves him in 29th place and is not good enough to progress.
Alex Smith throws 74.71m in the men's hammer qualifying, but it is not good enough to progress.
Stuart Stokes finishes heat three of the men's 3000m steeplechase in 12th place and goes out.
Ross Murray and Andrew Baddeley both reach the semi-finals of the men's 1500m. Murray clocks a time of 3:36.74 while Baddeley comes in at 3:40.34.
Abidoun Oyepitan reaches the semi-final of the women's 100m after clocking a time of 11.22.
Anyika Onuora fails to reach the women's 100m semi-final after a time of 11.41.
BASKETBALL
Canada beat Brazil in the women's basketball which means that GB's women now cannot make the quarter-finals of the tournament.
The women's side lose 80-77 to France in overtime to finish bottom of the group with no wins.
BOXING
Fred Evans has a strong final round to beat Lithuanian Egidijus Kavaliauskas 11-7 and progress to the quarter-finals of the men's welterweight division.
Andrew Selby beats Ilyas Suleimenov 19-15 to reach the quarter-finals of the men's flyweight division.
CYCLING
Victoria Pendleton wins GOLD in the final of the women's keirin with a time of 10.965.
Steven Burke, Ed Clancy, Geraint Thomas and Peter Kennaugh win GOLD against Australia in the men's team pursuit in a WORLD RECORD time of 3:51.659.
Dani King, Laura Trott and Joanna Rowsell set a new world record of 3:15:669 to go through to the next round of the the women's team pursuit.
DIVING
Hannah Starling and Becky Gallantree finish 16th & 17th in today's preliminaries and qualify for the next round of the women's 3m springboard.
EQUESTRIAN
Charlotte Dujardin on Valegro sets an Olympic record at the dressage, scoring 83.663, and leads the individual event after 50 riders. Carl Hester riding Uthopia sits fifth with a score of 77.720. Laura Bechtolsheimer is in seventh on Mistral Hojris with 76.839. Richard Davison, who rides as an individual on Artemis, scores 72.812 and lies 18th. Dujardin, Hester and Bechtolsheimer also ride as Team GB and lead the team event with 79.407.
FOOTBALL
The women's side lose 2-0 to Canada in the quarter-finals of the competition and go out.
HANDBALL
The women lose 31-25 to Angola, leaving them bottom of Group A.
HOCKEY
In group A GB's men beat Pakistan 4-1 and are second on seven points behind Australia.
JUDO
Karina Bryant wins BRONZE in the women's +78kg, beating Ukranian Iryna Kindzerska by an ippon. On the way she loses 1-0 to Mika Sugimoto of Japan in the semi-finals, but beats Kazakhstan's Gulzhan Issanova 1-0 in the quarter-final, Lucija Polavder of Slovenia 1-0 in the last 16 and Sonia Asselah of Algeria by an ippon in the last 32.
Christopher Sherrington is out of the men's -100kg after losing to Alexander Mikhaylin of Russia 1-0 in the last 16. Earlier he beat Australian Jake Andrewartha by an ippon in 24 seconds in the last 32.
ROWING
Katherine Grainger and Anna Watkins win GOLD in the women's double sculls final, beating Australia in six minutes 55.82 seconds.
Alan Campbell earns BRONZE in a thrilling finish to the men's single sculls, beating Sweden's Lassi Karonen by half a length in 7:03.28.
George Nash and Will Satch take BRONZE in the men's pair in 6:21.77, finishing behind winners New Zealand and France.
Stephen Rowbotham, Charles Cousins, Tom Solesbury and Matthew Wells finish fifth in the final of the men's quadruple sculls with a time of 5:49.19.
SAILING
Ben Ainslie is second overall in the men's finn as he finishes sixth in race nine and and wins race 10 in 1:02:42. He has a chance of gold in Sunday's medal race.
Iain Percy and Andrew Simpson are fourth in race nine and win race 10 in 1:13:51 to stay first overall in the men's star.
Luke Patience and Stuart Bithell are first overall the men's 470, coming fourth in race three and second in race four.
Stevie Morrison and Ben Rhodes lie third overall after mixed performances in races nine,10 and 11 of the men's 49er class.
Paul Goodison finishes 18th in race seven and 12th in race eight in the men's laser to sit eighth overall.
Saskia Clark and Hannah Mills begin the women's 470 event with sixth place in race one and victory in race two in 1:00:50 to leave them first overall.
In the women's laser radial Alison Young comes sixth in race seven and eighth in race eight to lie in fifth overall.
SHOOTING
Jonathan Hammond and James Huckle are out of the men's 50m rifle prone after coming 17th and 29th respectively in qualifying.
SWIMMING
Rebecca Adlington wins BRONZE in the women's 800m freestyle final with a time of 8:20.32.
Lizzie Simmonds finishes fourth in the women's 200m backstroke final with a time of 2:07.26.
Daniel Fogg is second in the second heat of the men's 1500m freestyle with a time of 14 minutes 56.12 seconds and qualifies fifth for the final. David Davies, the 2004 bronze medallist, comes seventh in his heat in 15:14.77 and is out.
Fran Halsall finishes third in the women's 50m freestyle semi-final with a time of 24.63 to reach the final.
Amy Smith finishes sixth in the women's 50m freestyle with a time of 24.87, but misses out on a place in the final.
In heat two of the women's 4x100m medley relay, Great Britain finish fifth with a time of 3:59.37 and qualify for the final.
In the men's 4x100m medley relay Liam Tancock, Craig Benson, Michael Rock and Adam Brown win their heat in 3:33.44 and qualify second fastest for the final.
TABLE TENNIS
Joanna Parker, Kelly Sibley and Na Liu are beaten 3-0 by North Korea in the women's team first round and go out.
Paul Drinkhall and Liam Pitchford lose 3-0 to Portugal in the men's team first round and go out.
TENNIS
Andy Murray beats Novak Djokovic 7-5 7-5 to reach the men's singles final, where he will play world number one Roger Federer of Switzerland.
Andy Murray and Laura Robson have their mixed doubles quarter-final match against Australian pair Lleyton Hewitt and Sam Stosur cancelled for the day.
VOLLEYBALL
The women's side have been beaten 3-0 by Dominican Republic, who had lost all three games going into the fixture.
WATER POLO
The women's side are beaten 10-5 by Italy and end the campaign bottom of their group without a point.