Irish sailing: Annalise Murphy drops to third in Laser Radial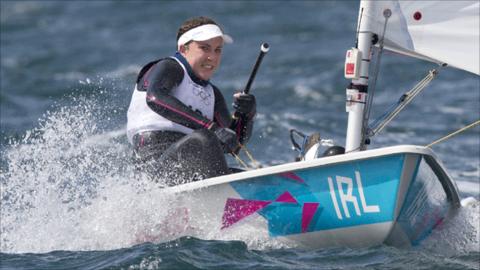 Ireland's Annalise Murphy retains hope of an Olympic medal as she lies third in the Laser Radial class ahead of Monday's decisive medal race.
Lying second going into Saturday's action, the Dublin woman went back into the overall lead by finishing third in race nine at Weymouth.
Murphy was seventh in the last of the 10 races, a result which leaves her in a share of third place on 34 points.
She lies one point behind leaders Lijia Xu and Marit Bouwmeester.
Bangor man James Espey was 25th in race nine and 35th in race 10 on Saturday to leave him in 36th place overall, so he will not contest the medal race.
Ger Owens and Scott Flannigan took 15th and 22nd positions in the 470 class and they are now 25th in the overall standings in that category.
Matt McGovern and Ryan Seaton are 11th overall in the 49er class after a 14th in race nine and seventh in race 10 on Friday.
McGovern, from Bangor, and Carrickfergus man Seaton have four races to go and can discard their worst two results as they attempt to make the top 10 for the medal race.
In the Star Class, Irish duo Peter O'Leary and David Burrows have qualified for Sunday's medal race after taking ninth place overall, following an 11th spot in race nine and a seventh position in race 10.