Olympics: Rio will learn from London seating errors, says chief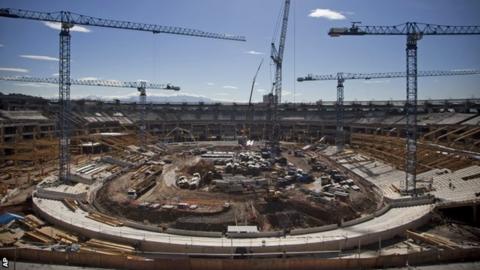 Organisers of the 2016 Olympic Games in Rio de Janeiro hope to avoid the issue of empty seats that have plagued the London Games.
Rio's bid promised full stadiums and Leonardo Gryner, head of Brazil's Olympic Committee, said Brazil would have "a better result than London".
But he conceded filling all the venues would be a "huge challenge".
"We have a plan to tackle it by occupying space at the last minute with additional audiences," he added.
Gryner announced his intentions on Friday at London's Somerset House, which the Brazilian contingent have made their home for the London Games.
"It's a challenge to control the presence of people in the arenas," he added. "They buy tickets or they get tickets and sometimes they don't show up.
"We proposed a program called 'Full Stadium', with ideas to always keep stadiums full and to create opportunities for the people around the arenas to get inside as soon as we realise that there are empty seats."
Gryner said some of Rio's venues may be smaller than their London counterparts so "we don't build huge places that are hard to fill".
The team has also been monitoring how London's transport system had coped over the course of the Games, with Gryner saying they had learned some "beautiful lessons".
Gryner also announced that Rio's Joao Havelange stadium, named after the former water polo player and Fifa president, would not be be renamed for the Olympics.
Campaigners have protested against the name of the stadium after the iconic sports figure was accused of taking a kickback from a company over broadcasting rights for the football World Cup.