Olympics judo: Shahrkhani first Saudi Arabian woman at Games
Last updated on .From the section Olympics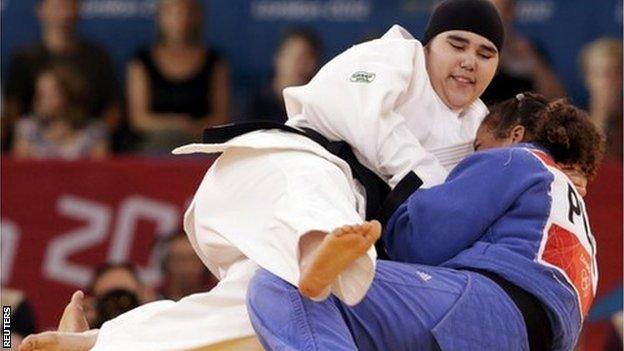 Wojdan Shahrkhani became the first Saudi Arabian woman to compete at the Olympic Games when she took part in the +78kg judo competition in London.
The 16-year-old had been in the spotlight before her event began as judo officials said she could not wear a headscarf for safety reasons.
Shahrkhani wore a tight-fitting black cap for her bout which ended quickly in defeat by Puerto Rican Melissa Mojica.
"Hopefully this is the beginning of a new era," Shahrkhani said afterwards.
"I was scared a lot, because of all the crowd," she added.
"Unfortunately, we did not win a medal, but in the future we will and I will be a star for women's participation. It was the opportunity of a lifetime."
The contest appeared to be an overwhelming experience for the Mecca-born teenager.
Despite only being qualified as a blue belt in judo, she wore the higher black belt to compete.
The two women engaged in a slow-moving fight, a tentative Shahrkhani on the defensive and seeming cautious about attempting to throw Mojica.
The bout ended when the Puerto Rican grabbed Shahrkhani with a secure grip on her collar and flipped her into a match-ending ippon.
Mojica said afterwards that everyone had a right to their own religion and should be given an opportunity in judo.
Shahrkani is one of two Saudi Arabian females competing at London 2012. The other is American-born 800m runner Sarah Attar.
Shahrkhani did not qualify for her Olympic spot but was invited by the International Olympic Committee to compete as the organisation wanted to bring Saudi women to the Olympics for the first time.
Her father, Ali, a judo referee, told The Associated Press he "cried like a baby" watching his daughter compete.
"She was happy and smiled when she finished the fight," he said. "She hugged me and said: 'Daddy, I did this.' I was so proud."