David Davies says he has probably swum his last race
Last updated on .From the section Olympics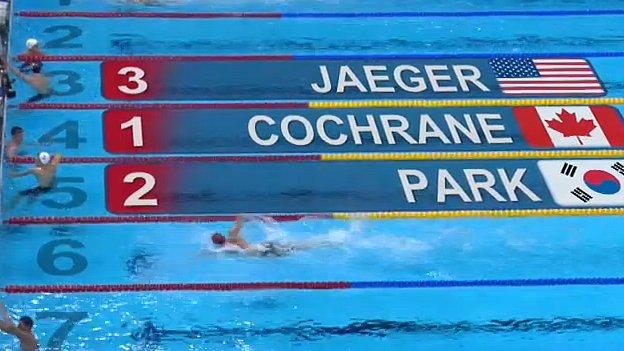 Double Olympic medallist David Davies has confirmed he has probably swum his last race after failing to progress beyond his 1500m freestyle heat at London 2012.
Welshman Davies won bronze in the same discipline in the 2004 Olympics before taking Commonwealth gold in 2006 then silver in the 10k open water event at the 2008 Olympics.
But after coming seventh in his heat, Davies said: "I think that probably is my last race. I would've liked to go out on bit of a better note."
The 27-year-old Barry swimmer added: "If somebody had said to me when I was a little 12-year-old boy 'you'd win two Olympic medals and win a Commonwealth gold and swim in three Olympics, I definitely would have taken it.
"So, when I get it all into perspective, I'll be really proud of what I've done.
"Whether I carry on, that's another thing, but I'll definitely be around sport and British swimming for a long time."
Amid claims he had been over-trained, Davies admitted just before London 2012 he was probably not in as good a condition as he had been in his previous two Olympics.
After losing out in Friday's heat, he added: "I feel like a bit of an old man now. These young kids have moved it on."
"I always knew going into the third Olympics would be the hardest one," he told BBC Sport. I probably tried a bit too hard in the last four years and I've honestly given it all I had and it's been great to be here.
"I'd have loved to have been in the final tomorrow but I can honestly say I've given it all I had."