Dai Greene relaxed after 400m hurdles qualification
Last updated on .From the section Olympics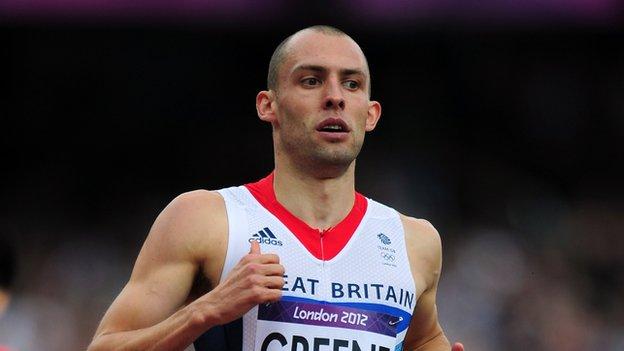 Wales' gold medal hopeful Dai Greene was in relaxed mood after cruising into the semi-finals of the 400m hurdles at London 2012.
Greene, 26, qualified in a time of 48.98 seconds at the Olympic stadium.
Fellow Welshman Rhys Williams also qualified, as fastest loser, for Saturday's semi-finals.
"It wasn't the best race but I struggle to get up for the heats because I know I don't have to be at my best," said Team GB athletics captain Greene.
The 2011 World and 2010 Commonwealth champion is one of the favourites to win a gold medal.
But Greene, who is also the second fastest 400m hurdler in the world this year, insists he is not feeling any pressure from an expectant home crowd.
"I don't find it too hard once you get to the later rounds," said Greene, who ran a 47.84 seconds personal best in July.
"It's what you've been training for your whole life so if you can't focus you shouldn't really be there."
Meanwhile, Rhys Williams was surprised by the performance of his rivals after narrowly qualifying for the semi-finals of the 400m hurdles.
Williams, 28, was the fastest loser in Friday's heats with a time of 49.17 seconds.
"A few guys beat me there who I didn't expect," said Williams.
"I knew it was going to be a tough heat but I was expecting to come second or third, not fifth."
However Williams, the son of Wales rugby great JJ Williams, remains hopeful for the semi-finals on Saturday evening.
"It's the fastest time I've run this year," said the Bridgend athlete, reflecting on his performance in the heats.
"With a bit later start hopefully the legs will be a bit quicker tomorrow."