Beth Tweddle backed for Olympics gold by legend Olga Korbut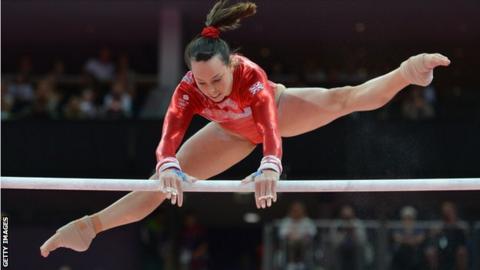 Beth Tweddle "will win" Olympics gold in the uneven bars, according to four-time champion Olga Korbut.
Tweddle makes a final bid for a medal in Monday's event and Korbut is confident she will overcome Russian rival Viktoria Komova.
"Beth is not at an Olympics for the first time and she will beat Viktoria Komova," said Belarusian Korbut, winner of three golds at the 1972 Games.
"I do not hope she will win, I know she will win."
Tweddle, a double world champion on the uneven bars, faces strong competition from current world champion Komova, reigning Olympic champion He Kexin of China and newly-crowned individual all-around gold medallist Gabrielle Douglas of the United States.
Korbut foresees a tight competition, with the 27-year-old Briton coming out on top.
"She has big potential," said Korbut. "She is very competitive and has a lot of experience.
"I don't think she is so much better but she has something. I like her."
Korbut, who represented the former Soviet Union, shot to fame 40 years ago at the Munich Games where she ushered in a new era of gymnastics, introducing new complex moves on beam and bars - such as the "Korbut Flip" - and prompted renewed worldwide interest in the sport.
The 57-year-old believes the achievements of the British gymnastics team, especially the men, who won team bronze in London, will help to revolutionise the sport in the United Kingdom.
In 1972 there were 500,000 gymnasts in Britain. Within two years of Korbut's memorable Olympic performance, three million British girls were members of gymnastics clubs.
"I think the British men can do for gymnastics in this country what I did in 1972," Korbut said.
"They are tremendous. What they are doing now is making the impossible, possible.
"Look at them, the men and women. They will bring more men to gymnastics which means you can choose more.
"This Olympic Games is just the beginning for British gymnastics. You will see."