Olympics badminton: South Korea sorry over match-throwing row
Last updated on .From the section Olympics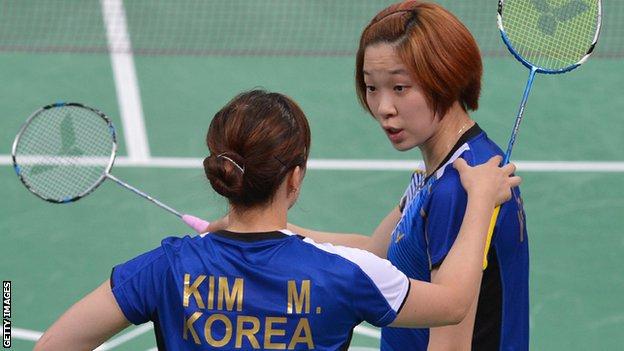 The head of South Korea's badminton delegation has issued an apology over the Olympics match-throwing scandal, the Yonhap news agency reports.
They were accused of wanting to lose, in an attempt to manipulate the draw for the knockout stage.
"I deeply apologize for tainting the honour of Korea," said head badminton coach Sung Han-kook.
"I recognise my failure to live up to the responsibility as the head coach to properly manage the athletes."
The players were accused of "not using one's best efforts to win" and "conducting oneself in a manner that is clearly abusive or detrimental to the sport".
South Korean appealed over the expulsion of pairs Jung Kyung-eun and Kim Ha-na and third seeds Ha Jung-Eun and Kim Min-Jung, but it was rejected by the Badminton World Federation.
China's head coach Li Yongbo has also issued an apology after the world number one pairing pair of Yu Yang and Wang Xiaoli were also disqualified as part of the controversy.
Yu also went on Chinese state television to say:"First of all, I want to apologise to our fans. We didn't play with the Olympic spirit. It has reflected very badly on us."