Olympics 2012 drugs: Hammer thrower withdrawn over Athens test
Last updated on .From the section Olympics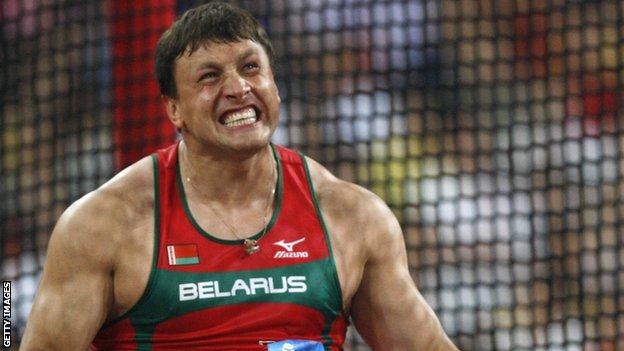 Hammer thrower Ivan Tsikhan has been withdrawn from the London Olympics after banned substances were found in samples from Athens eight years ago.
Belarus withdrew the three-time world champion after a request from ruling body the International Association of Athletics Federations (IAAF).
Tsikhan won bronze in Beijing but was temporarily stripped of the medal after tests showed high testosterone levels.
"Tsikhan will not compete in London," said a Belarus spokesman.
"The Belarus Athletics Federation received a letter from the world athletics ruling body IAAF with a demand to sideline Tsikhan," continued spokesman Vladimir Nesterovich.
"The IAAF letter said that new methods of testing discovered the presence of banned medications in the samples, which Tsikhan gave at the Athens Games and 2005 World Championships.
"We decided to withdraw Tsikhan from the competitions to avoid any possibility of sanctions against the entire Belarus athletics squad at the Olympics."
The International Olympics Committee (IOC) decided in May to retest about 100 samples from the 2004 Games.
The Court of Arbitration for Sport reinstated Tsikhan's Beijing bronze because samples were mishandled.
However, the panel did not clear the athlete of suspicion, insisting the verdict "should not be interpreted as an exoneration".