Tom James strikes second Welsh gold at London 2012
Last updated on .From the section Olympics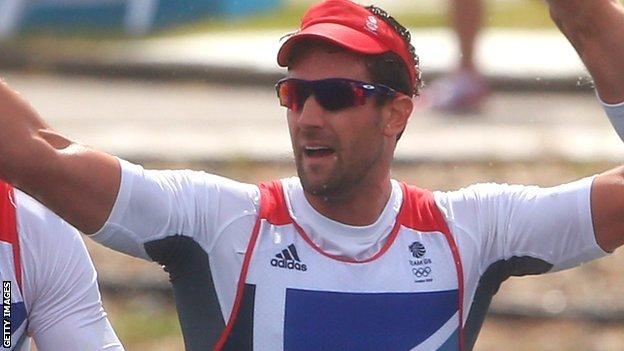 Rower Tom James has won Wales' second gold at the London 2012 Olympics with a commanding victory in the men's coxless four.
The 28-year-old from Wrexham follows Geraint Thomas in winning gold at successive Olympics.
James and the GB crew saw off Australia's challenge, leading early on and holding on in the final stages.
Dai Greene squeezed into the men's 400m hurdles final after finishing fourth in his semi-final.
With only the first two certain to progress from each of the three semi-finals, medal hopeful Greene struggled in a disappointing time of 48.19 seconds, and had an anxious wait to discover his fate.
But his time proved good enough to make the final as one of the two fastest outside the top two across all three races, although he will have an unfavourable lane in Monday's final.
Immediately after the race, Greene feared the worst, saying: "I can't believe it. I was going down the home straight and couldn't catch them.
"I don't know why I wasn't there. I'm devastated. I'm shocked and feel like I've let everyone down."
He will get an unexpected second chance to challenge for a medal, but Rhys Williams failed to make the final as he finished fourth in his race in 49.63secs.
European champion Williams looked in contention until stumbling off the last hurdle and said: "I gave it everything and I am gutted I am not going to get another chance to go out there because the support has been great.
"I had a dreadful last hurdle and lost all my momentum."
Earlier, Helen Jenkins failed to win a medal as she finished fifth in the triathlon at Hyde Park.
Jenkins was one of the favourites, but fell away in the latter stages and later revealed that a knee injury had limited her training in the lead up to the Games.
James, who defended his own Olympic crown, said: "I was trying not to think it was over at 500m.
"I was trying to just focus on our boat because you've got everyone on your right and you can't [see] - your peripherals don't go far enough.
"And you've got to just focus on what you're doing. But I knew when we got off the start and we got into rhythm it was good and it was quick and it just felt good.
"I felt confident and whatever happened on our right, I just didn't care.
"And it was just unbelievable. It started raining and it was blowing and I was thinking 'this is for us'.
"This is what we do the whole winter. It's always chucking down with rain… it was our day and I can't describe what this atmosphere is like to people who are at home.
"It's beyond words, it's epic. It's magic, it's emotional - the crowd is phenomenal and I'm just so excited to be here. I'm so proud."
But there was disappointment for the five Welsh players in Great Britain's men's football squad, who were beaten 5-4 on penalties by South Korea.
Craig Bellamy captained Team GB in the quarter-final match at the Millennium Stadium with Aaron Ramsey, Neil Taylor and Joe Allen in the starting line-up and Ryan Giggs on the bench.
Dong-Won Ji gave South Korea the lead on 29 minutes before Wales captain Ramsey equalised from the spot seven minutes later
But a second Ramsey penalty was saved and with the game ending 1-1 after extra-time, Stuart Pearce's side lost 5-4 in a penalty shoot-out after Daniel Sturridge's kick was saved.
In sailing, 470 class skipper Hannah Mills continued her quest to qualify for the medal race with fourth place alongside crew Saskia Clark in Weymouth.
The duo finished fourth in the day's opening race and sixth in the second - the third and fourth of the series - to drop from first to second behind new leaders New Zealand in the rankings.
Sarah Thomas and the Team GB hockey squad lost their first match after three victories in Group A.
A draw against over China would have been enough to take them through to the semi-finals, but they went down 2-1.
Team GB were top of Group A thanks to wins against Belgium,South Korea and Japan, but now must beat leaders The Netherlands to guarantee a place in the last four.