Olympics sailing: Iain Percy & Andrew Simpson eye Star title

By Rob Hodgetts
BBC Sport at Olympic sailing in Weymouth
Last updated on .From the section Olympics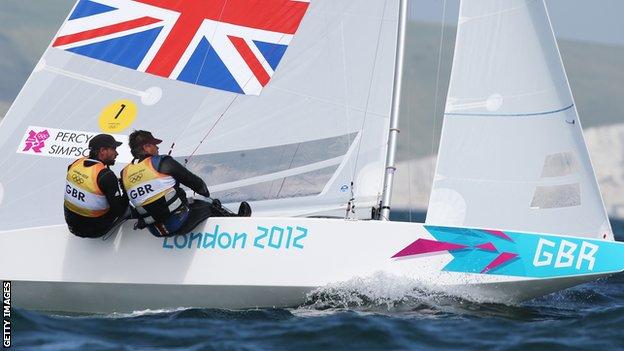 Great Britain's Iain Percy and Andrew Simpson are well placed to defend their Olympic Star title.
The pair lead Brazilians Robert Scheidt and Bruno Prada by eight points, with Sweden four points further adrift, going into Sunday's medal race.
The top three are guaranteed a place on the podium, but the colour of the medals will be decided in the finale.
"The lead doesn't count for much, it's like a one-race series for three boats," said Percy.
Brazil would need to beat the Britons by three places to win, while Percy and Simpson must finish no worse than sixth in the double points-scoring finale should Sweden win the final race.
Percy and Simpson led Brazil, the runners-up four years ago, by nine points going into Friday's penultimate two races to decide the top 10.
They scored a fourth and a first compared with the first and the third of Scheidt, who is Ben Ainslie's former arch-rival in the Laser class, and crew Prada.
Swedish helm Fredrik Loof, who won bronze in Beijing, and crew Max Salminen were level with the Brazilians but dropped back with a second and a sixth.
"It was a good response in the second race, we came back fighting so I'm pleased with that. It's going to be a tight one," said Percy, a two-time gold medallist, who at 36 is the oldest member of the British sailing team.
"But what a great occasion, what a great thing to look forward to."
Another of Britain's defending champions, Paul Goodison, admitted his challenge for Laser gold is more or less over.
Goodison, who was carried aloft in his boat after winning in China, has struggled with a back injury this week and was a long way off the top three after eight races.
The 34-year-old had an 18th and a 12th on Friday to sit eighth, with Australian world champion Tom Slingsby edging back in front of Pavlos Kontides of Cyprus at the top of the standings.
"The back is not the best," said Goodison, who feared his Olympics may be over earlier in the week.
"The pain is still there. Whenever you give anything less than 100% you struggle for power upwind."
British 49er duo Stevie Morrison and Ben Rhodes also struggled in their three races on the "Nothe" course nearest to Weymouth to slip two places to fourth after 11 of their 15 opening races.
The pair, who won both races to climb to second on Thursday, posted a 17th, fourth and 20th to fall eight points adrift of the bronze-medal position.
"We're pretty disappointed," said Morrison. "We just need to keep on fighting and carry on."
Windsurfer Nick Dempsey, who won bronze in Athens but was fourth in Beijing, also lies fourth after a 10th and a first, but the 31-year-old is just two points off silver.
Dutch sailor Dorian van Rijsselberghe is the runaway leader with four wins, a second and a third from the six races.
In the men's 470 class, Luke Patience and Stuart Bithell remained in front after two days with a fourth and a second to lead the favourites Australia by six points.
"Yet again it was a washing machine out there, windy and wavey," said Patience, 25.
British sailors Hannah Mills and Saskia Clark also lead in the women's 470 class with a sixth and a first on their opening day.
GB sailor Alison Young is fifth with two races remaining before the Laser Radial medal race.
The 22-year-old had a sixth and an eighth and is 11 points off third.