Andy Murray boosted for Olympics final v Roger Federer

By David Ornstein
BBC Sport at Wimbledon
Last updated on .From the section Olympics170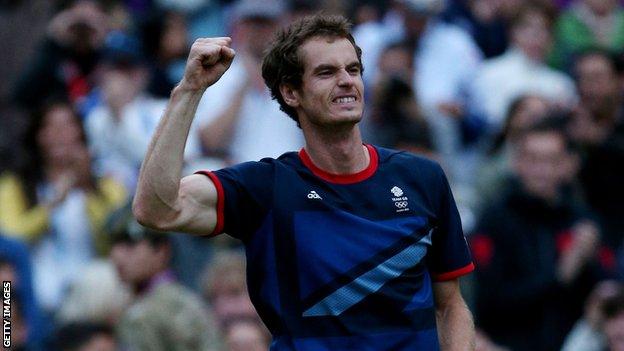 Andy Murray believes his chances of winning Olympic gold are boosted as Roger Federer will be playing in his first Games singles final on Sunday.
Federer, a 17-time Grand Slam champion, lifted his seventh Wimbledon title last month by beating Murray.
"It's so rare for him to be in a position where he's trying to do something new because he's achieved so much in tennis," said the Briton, 25.
"I hope that will even things out a little bit."
He added: "Most times I've played him, he's experienced the situations way, way more times than me."
Murray overcame Novak Djokovic to reach his first Olympic final - which will take place on Sunday - while Federer, 30, beat Juan Martin del Potro.
The Swiss has played 107 career singles finals to Murray's 32, winning 75 to the Briton's 22. This year's Wimbledon final was Federer's eighth and Murray's first.
But Murray has won eight of their 16 meetings and will be buoyed by his rousing victory over world number two Djokovic in the semi-finals, which guaranteed him at least a silver medal.
"Playing against Roger is always tough," said world number four Murray, who must also play at least one mixed doubles match alongside Laura Robson on Saturday.
"I've had some good wins against him and some tough losses. I will have learned from the Wimbledon match - I'll look and talk with my team about that match and the tactics for going into Sunday.
"I want to try to win. I don't think going into matches trying to get revenge for something that's happened in the past really helps. I think you need to try and focus on the future.
"It's going to be a tough match. I'll need to play great tennis to win. I hope it's a great match because the way the semi-finals went, the tournament deserves a great final. I hope we can provide that."
Federer needed four hours and 26 minutes - the longest three-set singles match in the Open era - to grind down del Potro and later admitted to being "extremely drained".
Murray, by contrast, was on court for exactly two hours and looked as if he had plenty of energy to spare as he leapt around Centre Court in celebration.
"I don't feel tired at all," he admitted. "Mentally I feel really fresh. Normally after playing a match with Novak, you will feel a bit fatigued. I feel fine.
"Anybody that knows me knows I won't go into the match happy with just having a silver medal. I go into the match 100% trying to win. I'll give everything I can on the court.
"There's obviously huge motivation to try to win a gold medal. Winning against Roger in a match like that is fairly significant. I'll be desperate to win.
"Now I'm in the final, I have the chance to win a gold medal. I'm not going to have that chance for another four years. So I'll give it everything I can to try to do that."
Murray is also in his first Olympic final, having lost to Lu Yen-Hsun Lu of Taiwan in the first round in Beijing four years ago.
But Federer said of the Scot: "He got amazing crowd support in the Wimbledon final. I was able to handle that. But there's never a guarantee. I don't know how much the crowd plays in the outcome of the match.
"He's such a great player but I've been around as well. I think it should be a great match."