Olympics athletics: Who could beat Usain Bolt in the 100m?
Last updated on .From the section Olympics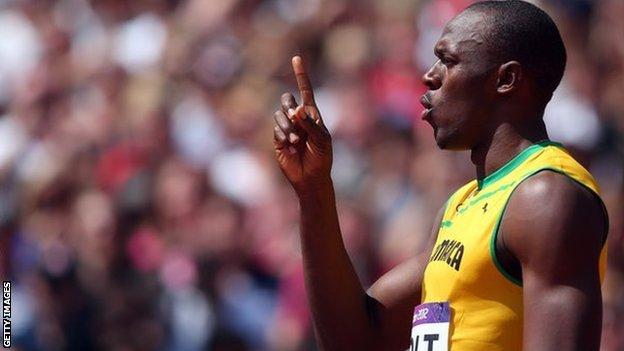 The world was taken aback when the world's fastest man, Usain Bolt, was beaten not once, but twice, at last month's Jamaican Olympic trials.
The uncharacteristic losses led Bolt to admit he is only "95%" fit going into London 2012, and prompted the first whispers that maybe he could be beaten again, and on the biggest sporting stage of them all.
BBC Sport pundit and 2000 Olympic 200m silver medallist Darren Campbell assesses Bolt's form and looks at the candidates to succeed him should he surrender his sprinting crown.
Usain Bolt
Age: 25
Personal best: 9.58s (2009)
2012 best: 9.76s; London 2012 1st round: 10.09
Honours: 2008 Olympic 100m, 200m & 4x100m champion; world record holder (9.58s)
An unthinkable false start and disqualification in the 2011 World Championships, combined with the loss of both national sprint titles, has raised questions over Bolt's state of mind coming into the Olympics.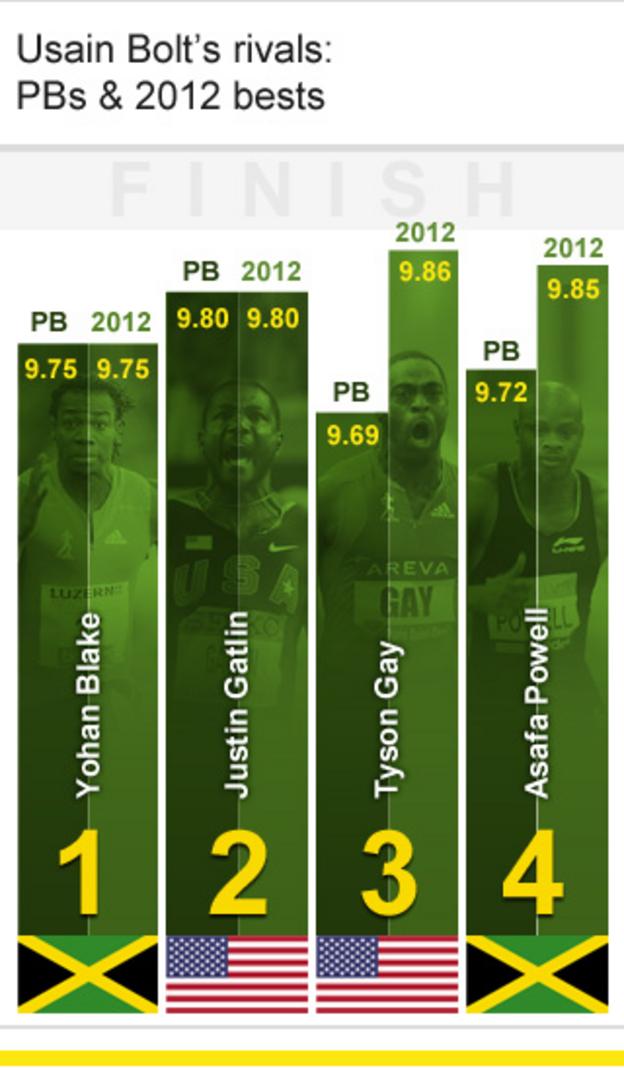 It's been a contrary season for the Jamaican sprinter who made a sluggish start in April, by his exceptionally high standards, of 10.04 at a meet in the Czech Republic. But that was followed by the second-fastest 100m of the year, 9.76s, at the Rome Diamond League.
Darren Campbell's verdict:
Sometimes in life your biggest strength can be your biggest weakness and that's Usain Bolt's reality. His strengths are his long legs, but only if he's able to get them out in front of him and moving.
That's very difficult for someone who is 6ft 5in and starting in a crouched position. He needs to be in the upright position to fully utilise his long stride.
A shorter sprinter is able to transition from crouched to upright quicker than Bolt so they tend to reach their top speed sooner. However, because of his height, he is able to hold his top speed for longer and decelerates at a slower rate than a shorter sprinter.
The key for Bolt is capturing his rhythm in the first 30 metres through the transition and smoothly into the drive phase so he can work towards his top speed. If he gets that right, he'll win all day long.
Asafa Powell
Age: 29
Personal best: 9.72 (2008)
2012 best: 9.85; London 2012 1st round: 10.04
Honours: 2007 & 2009 World Championship bronze medallist; 2008 4x100m champion
Remarkably, Asafa Powell is yet to convert his multiple appearances in Olympic and World Championship 100m finals into gold medals. As a result, questions remain over the former world record-holder's self-belief.
He may have run more sub-10 second 100m races than anyone else in history but the Jamaican could only manage a fifth-place finish at the 2004 and 2008 Games.
Powell, whose best individual finish is a world 100m bronze in 2007 and 2009, has raced consistently well on the circuit this season with a win in the Shanghai Diamond League, and runner-up finishes in Doha, Rome and Oslo.
Darren Campbell verdict:
If you were to build a specimen to be able to run the 100m and could choose certain attributes, that specimen would be Asafa Powell. Even Usain Bolt himself has said he wishes he had Powell's start.
Powell has a fantastic elegance in the last 30 metres and such relaxation. But the problem he has is that he goes into a major championship final and forgets all of those things that he does so well in the heats and the semi-finals.
Which leads you to question his mentality and whether, when he stands on that line and the starter says, 'on your marks', he believes he can win.
Justin Gatlin
Age: 30
Personal best: 9.80
2012 best: 9.80; London 2012 1st round: 9.97
Honours: 2004 Olympic 100m champion; 2005 100m & 200m world champion
Justin Gatlin is a controversial figure in track and field, the American having served two bans after testing positive for banned substances. He has had a solid 2012 season culminating in winning the US Olympic trials ahead of Tyson Gay.
The 30-year-old already has an Olympic and world 100m title to his name but, looking forward to what is likely to be his final Games, Gatlin declared: "I have nothing to lose. If I take that lead, it is going to be hell giving it back."
Darren Campbell's verdict:
Gatlin is in with a shout, whether you like him or hate him. Why? Because he's been Olympic champion before as a young man in 2004.
He knows what it takes to win an Olympic title and he is mentally tough. This moment for him will be about redemption. He said he never took drugs but was banned for four years after testing positive, so he wants to show people what he can do.
However, he's on a comeback and it's been a steep progression back to the top so has he used all his energy to get there? He doesn't have one defining weakness. He hasn't run as fast as the likes of Bolt or Blake but if the race is run at 9.7-9.8 second pace then expect him to be challenging.
Yohan Blake
Age: 22
Personal best: 9.75
2012 best: 9.75; London 2012 1st round: 10.00
Honours: Reigning 100m world champion; Jamaican 100m & 200m champion
When the opportunity came for Yohan Blake to etch his name in the record books after Bolt's disqualification from the world 100m final last year, he seized it.
Blake became the youngest ever 100m world champion aged 21. But even dizzier heights were to follow when Blake beat his fellow countryman and fastest man on the planet Bolt - twice, at the Jamaican Olympic trials.
With Blake running an impressive 9.85s in Switzerland just weeks before the Games started, he is considered to be the main threat to Bolt's bid to retain his Olympic title.
Darren Campbell's verdict:
As Bolt's training partner, Blake knows what Usain Bolt is capable of and so he's fearless. He's coming into these Olympic Games believing he can win.
Maybe he's scented a bit of blood after beating Bolt at the trials so will be extremely confident. But this is Blake's first Olympic Games and so it won't be easy for him.
Blake's weakness is his inexperience. Whereas Bolt knows what the atmosphere is like in an Olympic 100m final, Blake doesn't, so it's going to be a difficult title for him to win.
Tyson Gay
Age: 29
Personal best: 9.69 (2009)
2012 best: 9.86; London 2012 1st round: 10.08
Honours: second-fastest 100m runner in history (9.69); 2007 100m & 200m world champion
"I really feel the missing piece of my heart is an Olympic medal," Tyson Gay says. But despite being the second-fastest 100m sprinter ever, Gay goes into London 2012 not having won a major medal since World Championship silver in 2009.
Notably, Gay started his 2012 season considerably later than his rivals as he was recovering from hip surgery. But he did manage to score a narrow victory over fellow American Justin Gatlin at the Paris Diamond League event in July.
Darren Campbell's verdict:
Tyson Gay runs with so much power and energy with every single step which is why he probably has such problems with his groin - he generates so much power through the floor.
I look at him and think I don't know how he moves his legs that quick. For every stride of Bolt's, it seems like he takes one and a half but he does it in such a way that he's able to move quickly.
His weakness would be he's had an operation and is on his way back. Although he's shown good form in the last couple of races and has beat rival Gatlin, I don't know if his body is strong enough at the moment.
Darren Campbell was speaking to Jessica Creighton