Olympics 2012: Team GB athletes at London Games Day Eight
Last updated on .From the section Olympics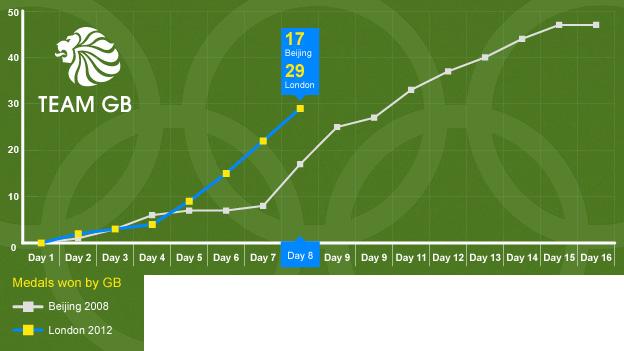 A sport-by-sport round-up of how every Team GB athlete performs on Day Eight of the 2012 Olympic Games in London.
Britain finished Day Eight on a total of 29 medals, compared with 17 at this stage at Beijing in 2008, to put them third in the medals table.
ATHLETICS
Mo Farah runs a perfect race in the 10,000m final to take GOLD with a time of 27:30.42.
Greg Rutherford wins GOLD in the long jump with nobody able to match his 8.31m. It is Great Britain's first long jump gold for almost 50 years. Team-mate Chris Tomlinson finishes sixth.
Jessica Ennis clinches GOLD in the heptathlon after winning the 800m. She came home in 2:08.65 to secure the victory. She earlier achieved 6.48m with her third attempt in the heptathlon long jump and threw a personal best of 47.49m in the javelin.
Katarina Johnson-Thompson comes second in her 800m heptathlon heat with a personal best of 2:10.76 to come 14th in the final standings. She earlier leaped 6.19m in the long jump and threw 38.37m in the javelin.
Louise Hazel finishes the heptathlon 800m with a time of 2:18.78 to come 26th overall. Earlier, she achieved 5.77m in the long jump and threw a lifetime best of 47.38m in the javelin.
Christine Ohuruogu finishes second in her 400m semi-final with a season's best of 50.22 to go through to tomorrow's final. Both Shana Cox and Lee McConnell finish seventh in their respective semi-finals.
Abe Oyepitan finishes last in her 100m semi-final with a time of 11.36.
Dai Greene finishes fourth in his semi-final of the 400m hurdles but his time was good enough to qualify for Monday's final. Rhys Williams also comes fourth but did not qualify from his semi, while Jack Green fell and did not finish.
James Dasaolu is third in heat three of the men's 100m first round with a time of 10.13 seconds. Adam Gemili comes second in heat five in 10.11 and Dwain Chambers wins heat seven in 10.02 as all three progress to the semi-finals.
Nigel Levine comes third in heat five of the men's 400m in 45.58. Conrad Williams is third in heat six with 46.12 and Martyn Rooney runs 45.36 to come second in heat seven. All three qualify for the semi-finals.
Barbara Parker finishes sixth in the first heat of the women's 3,000m steeplechase in 9:32.07. Eilish McColgan finishes her heat in ninth with 9:54.36. Both go out.
Holly Bleasdale qualifies joint fourth on 4.55m to go into the pole vault final. Kate Dennison can only clear 4.25m before a nasty fall and goes out.
BASKETBALL
Team GB lost their penultimate group match to Australia 106-75.
BOXING
Tom Stalker heads into the light-welterweight quarter-finals after winning his round of 16 bout 20-16.
CYCLING
Dani King, Laura Trott and Jo Rowsell win GOLD and set a world record of 3:14.051 in the women's team pursuit final, beating the record they had set in the previous round. That means Team GB's track cyclists have racked up six straight world records, and nine in total so far at the Games.
Ed Clancy is fourth in the men's omnium standings after he picked up 5 points in the elimination race. He earlier grabbed 11 points in the 30km race and won the flying lap, with a time of 12.556.
Jason Kenny records a time of 10.363 seconds to win in the round of 16 for the men's sprint, putting the Brit through to the quarter-finals tomorrow. He earlier broke the Olympic record and was fastest in the men's sprint qualifying with a time of 9.713 seconds.
DIVING
Hannah Starling missed out on the 3m springboard final by 0.75 points, finishing with a score of 313.95. Team-mate Rebecca Gallantree finished bottom of the semi-final standings with a score of 267.10.
EQUESTRIAN
Nick Skelton riding Big Star and Ben Maher on Tripple X are among 32 riders with a clear round in the first qualifier of the individual jumping. Scott Brash on Hello Sanctos is joint 42nd with 4 faults. Peter Charles accumulates 10 faults on Vindicat and is eliminated.
FOOTBALL
Team GB were beaten in a penalty shootout 5-4 by South Korea after drawing 1-1 after extra time.
GYMNASTICS
Kat Driscoll is ninth in qualifying with a score of 100.985 on the trampoline and does not make the final eight.
HANDBALL
GB's men lose 34-17 to Tunisia and are bottom of group A.
HOCKEY
The women suffered a shock 2-1 defeat to China to leave them second in Group A with one match left to play.
ROWING
Alex Gregory, Pete Reed, Tom James and Andrew Triggs Hodge win GOLD in the men's four, holding off main rivals Australia with a time of 6:03.97.
Katherine Copeland and Sophie Hosking win GOLD with an emphatic victory in the women's lightweight double sculls, recording a time of 7:09.30.
Zac Purchase and Mark Hunter take SILVER in the lightweight men's double sculls in 6:37.38, narrowly beaten by race favourites Denmark.
SAILING
Hannah Mills and Saskia Clark finished fourth in race three and sixth in race four to leave them second in the overall standings for the women's 470.
Nick Dempsey finished second in race seven and third in race eight of the Men's RS:X to leave him second in the overall standings.
Men's 470 pair Luke Patience and Stuart Bithell finish third in race five and fourth in race six to see them slip to second in the overall standings.
Defending men's Laser champion Paul Goodison is ninth in race nine and eighth in race ten, leaving him sixth overall and out of contention with just the medal race to go.
Bryony Shaw finishes seventh in race seven and fifth in race eight of the Women's RS:X, leaving her sitting in seventh overall.
Alison Young is disqualified from race nine of the Laser Radial and is fourth in race ten and now sits fifth with the medal race remaining.
Lucy MacGregor, Kate MacGregor and Annie Lush lose to the Netherlands in today's match race in the Elliott 6m leaving them seventh in the standings.
SHOOTING
Jennifer McIntosh finishes the women's 50m rifle 3 positions elimination round in 42nd place with a score of 570 and goes out.
Charlotte Kerwood comes 16th in qualification for the women's trap with 64 and does not progress.
SWIMMING
Team GB finish fourth in Michael Phelps' last ever race, the men's 4x100m medley, with a time of 3:32.32. The women come eighth in their 4x100m medley relay with a time of 3:59.46..
Dan Fogg comes eighth in the 1500m freestlye final with a time of 15:00.76, while Fran Halsall finishes fifth in her 50m freestyle final with a time of 24.47.
TENNIS
Andy Murray and Laura Robson reach the mixed doubles final with a 10-7 champions tie-break win, beating their German opponents 2-1 in sets in the semi-final. The victory guarantees the pair at least a SILVER. The pair had won their earlier quarter-final 2-1.
TRIATHLON
Medal hope Helen Jenkins comes fifth, completing the race in 2:00:19. Vicky Holland is 26th with 2:02:55 and Lucy Hall is the last of the Brits in 33rd with 2:04:38.
VOLLEYBALL
In group A the men suffer their fourth defeat in a row, losing 3-0 to Poland, and remain bottom with a game to go.
WATER POLO
Team GB lose their penultimate group match to Hungary 17-6.
WEIGHTLIFTING
Peter Kirkbride finishes with a total of 328kg in the men's 94kg and comes 16th overall.