Can Andy Murray beat Roger Federer to win Olympic gold?

By David Ornstein
BBC Sport at Wimbledon
Last updated on .From the section Olympics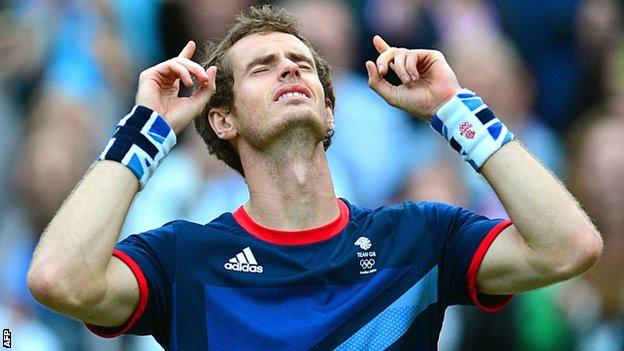 Britain's Andy Murray will attempt to win the biggest title of his career when he meets Roger Federer in the Olympic men's singles final at 14:00 BST on Sunday.
Neither man has been in this position before in the Olympic singles and although Federer is a 17-time major champion, Murray is arguably playing the better tennis.
The Scot posted a hugely impressive straight-sets victory over second seed Novak Djokovic in the semi-finals, while an out-of-sorts Federer eventually beat Juan Martin del Potro 19-17 in the deciding set.
Their career head-to-head stands at 8-8 but each best-of-five sets match has gone the way of Federer, and that is the format this event switches to for the men's final after five best-of-three sets rounds.
One factor that could make a telling difference is the crowd, with Federer's popularity at the All England Club unquestionable, the level of support Murray has received this week has been astonishing.
Tim Henman, an Olympic doubles silver medallist in 1996,and fellow former British number one Annabel Croft asses whether the Scot can deny his legendary opponent the one accolade missing from his CV.
How impressed have you been by Murray?
Tim Henman: "He put in a amazing display against Djokovic and it all came down to how offensive he was from the word go. He was really coming out and looking to dictate the points, that was the game style and it hasn't always been the case in the past."
Annabel Croft: "Since the start of the tournament I've studied all the players and Murray is hitting his groundstrokes heavier than anyone else. He is literally thundering the ball into the corners; it must be sending shockwaves through the men's game.
"It feels like he's a different person. You can no longer say he's a passive player who waits for things to happen. He's taking the initiative, serving incredibly well, defending brilliantly, and I can see him winning gold."
Can he beat Federer on Sunday?
Tim Henman: "Murray has an extremely good chance. In the Wimbledon final he dominated the first two sets, but Federer played a brilliant last two games of the second to level the match.
"Then, under the roof, the Swiss level raised significantly. People were questioning how Murray was going to respond this week - he's responded in the best possible way."
Annabel Croft: "Yes, and based on the way both guys are performing at the moment, it does feel like Murray is the favourite."
What must Murray do to triumph?
Tim Henman: "The key question in these huge matches is whether Murray is proactive or reactive. He tends to win or come very close when he plays proactively. It's critical he does that against Federer.
"Against Djokovic on Friday, he was able to save all of the break points he faced and deal with adversity through some brilliant serving. If Murray plays like that again, Federer will come under huge pressure.
"The start is vital. If Murray can build an early lead and keep building it, he should win. It would just be an amazing response after such a great Wimbledon, but such a disappointing outcome, to win gold."
Annabel Croft: "Andy has to play a sustained, high-level tennis match for the best-of-five sets. I feel he is the finest best-of-three sets player in the sport. But can he sustain it over two-and-a-half to three hours? That said, he may play well enough to not need five sets.
"Federer wants this more than anything - it's the only thing missing from his trophy cabinet. Murray is facing arguably the greatest player in history, who's just won his seventh Wimbledon and 17th Grand Slam.
"It would be the most perfect, fitting end for Federer but I definitely feel Murray goes in playing the better tennis."
Will the fans play a part?
Tim Henman: "It's a very different crowd. The atmosphere at Wimbledon is always great, but there have been so many people here during the Olympics who wouldn't get the chance during the Championships.
"You can feel their excitement and you can feel Murray responding with the way he's played. Hopefully that's going to continue on Sunday."
Annabel Croft: "With the level of support Murray had going into the Wimbledon, I didn't think it was possible for Federer to get through both him and 15,000 people baying for his blood. But he found a way.
"He's amazingly calm and will block things out, but who knows? I've never seen Federer as nervous as he was at the start of that final - he must have been glad it was a best-of-five sets match.
"Roger has never been in this position before, a situation where he desperately wants something and it's probably his last chance. It makes for a fascinating spectacle."