Olympics athletics: Kim Collins 'dropped for visiting wife'
Last updated on .From the section Olympics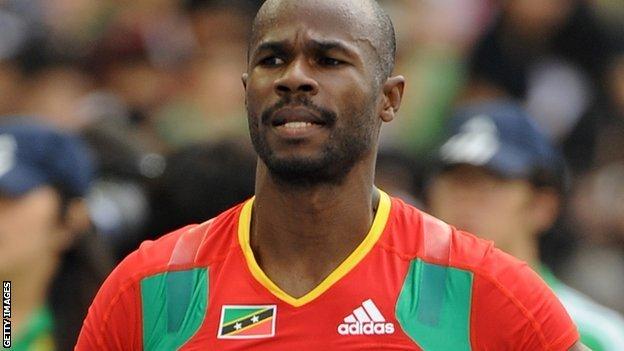 St Kitts and Nevis sprinter Kim Collins has dramatically dropped out of the Olympics after falling out with his team for visiting his wife.
Collins says he was given permission to see her for a night, but St Kitts and Nevis officials said they had not heard from him for three days.
They then cancelled his accreditation for the London 2012 Games.
Collins, who won the 2003 World 100m title, commented: "Even men in prison get their wives to visit."
The 36-year-old told BBC Radio 5 live: "What am I supposed to do? I'm going home. My accreditation was cancelled. I am not walking away, I was pushed out."
Alphonso Bridgewater, general secretary of St Kitts and Nevis Olympic Committee, said none of his team knew of the sprinter's whereabouts.
Collins, the 2011 World Championship bronze medallist, said he had wanted time out to help him focus on the 100m.
"The village is great, but I really needed some peace and quiet," he said. "I needed to get away, to focus because this is the last best chance I would have of a medal."
He added: "I was told I could only spend one night. Initially, I expected her to be part of the team as coach, because she's not only my wife but assistant coach. She assists me in coaching two of the other guys in the team, Jason Rogers and Lestrod Roland.
"I feel that I should stay in a hotel with my wife, with or without their permission."
Collins, sixth in the 2000 Olympic 100m final and seventh in Athens, said the incident would signal the end of his international career.
"This is how it ends," he said. "It ends on a really sad note. I should have been allowed to run."
Collins had been due to run in heat seven of the men's 100m, which was won by Great Britain's Dwain Chambers in 10.02 seconds.
St Kitts and Nevis will have one representative in the semi-finals of the 100m. Antoine Adams qualified, but Rogers was eliminated after finishing fifth in the heat won by defending champion Usain Bolt.