Olympics sailing: How can Great Britain's sailors win gold?

By Rob Hodgetts
BBC Sport at Olympic sailing in Weymouth
Last updated on .From the section Olympics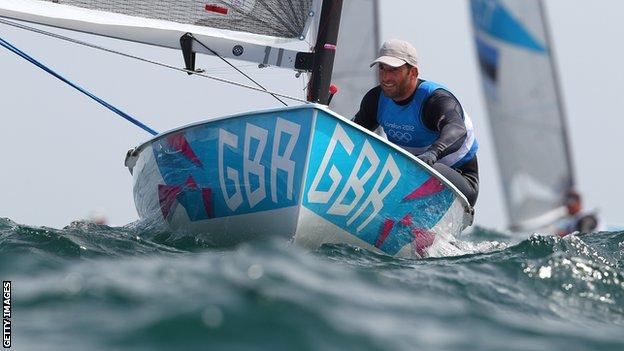 British sailors Ben Ainslie in the Finn class and Star class duo Iain Percy and Andrew Simpson go for gold in the first sailing medals to be decided in Weymouth on Sunday.
The three are already assured of a place on the podium but the colour of their medals will be decided in the double points-scoring finale, to be sailed close to the shore, in front of the 5,000-capacity ticketed spectator area.
Ainslie, 35, is chasing his fourth Olympic title and fifth medal in all and gold would take him past Dane Paul Elvstrom as the most decorated sailor in Olympic history.
Percy, 36, and Simpson, 35, are the defending champions, and for Percy it would be a third gold in four Games.
Two-time Olympic sailing gold medallist Shirley Robertson and BBC sailing commentator Richard Simmonds discuss how it could all pan out.
What are the possible outcomes for Ainslie?
Ainslie is two points behind Denmark's Jonas Hogh-Christensen, who has led all week. So whatever happens, Ainslie must finish ahead of the Dane in the medal race. If he does that, and finishes inside the top seven, he wins gold. Ainslie can afford to finish eighth if third-placed Pieter-Jan Postma of the Netherlands is only second and ninth if the Dutchman is third (barring any disqualifications, which add 22 points).
What are the possible outcomes for Percy and Simpson?
The positions are currently the same as they finished in 2008 in Beijing, with Great Britain in gold, Brazil in silver and Sweden in bronze. Britain will win gold if they finish in the top four on Sunday. They will also win if Brazilians Robert Scheidt and Bruno Prada do not beat them by more than three places - the caveat being if Sweden's Fredrik Loof and Max Salminen win the medal race, Percy and Simpson must be in the top six (again barring disqualifications).
What will be Ainslie's tactics?
Robertson: "Ainslie will be aggressive towards the Dane, but with half an eye on Postma, who could come in for the knockout punch at the end. Ben is the best in the world at executing in a medal-race scenario. He's a world champion match-racer, so he knows all the moves, all the tactics. Match-racing is about quick thinking, planning three steps ahead. It's like a game of chess. Jonas's speed has been impressive this week but it's a small course and he won't get a chance to stretch his legs. Ben won't let him. We first saw Ainslie's ruthlessness in that infamous medal race in Sydney, when he sailed Robert Scheidt to the back of the fleet to win gold. It was perfect execution, and he has just got better and better at it."
Simmonds: "There are few people in sport you want to go into a one-on-one with less than Ben Ainslie. It's going to be all out attack, it's going to be brutal. It doesn't matter if you've never seen a sailing race in your life, it's going to be extraordinary. Ainslie will hunt him down and intimidate him. But Ainslie will be wary of getting too caught up and ignoring Postma. Hogh-Christensen must avoid getting trapped, but it will be like trying to run through a door with someone in the way."
GB sailing boss Stephen Park: "We will certainly see some entertainment on that first leg and in the pre-start. It will be an incredible battle to watch. Ben will come out absolutely driven to win that gold medal. If I was the Dane I would be shaking in my boots."
What Ainslie says: "It's going to be a fascinating race. It's hard to call the tactics. A lot depends on the conditions. No-one really knows what the other guy is going to do. He might come out fighting, or try to be defensive."
What Hogh-Christensen says: "I don't think Ben will [match-race him], actually. There's a Dutch guy who is not far behind and if we finish nine and 10, the Dutch guy can win the gold. So we have to race for it. But Ben is the favourite for gold. Without Postma, the odds would be severely against me. I've already achieved my goal of winning a medal and giving myself a chance of gold. All the pressure is on Ben."
What Postma says: "I'll trust my own powers and I'll keep my eye on the French guy and the Croatian guy."
How will Percy and Simpson approach their medal race?
Robertson: "The Britons have got a cushion, so they will just need to cover Scheidt. It won't be full-on aggression. But Percy is also a phenomenal match-racer and the others will be hard-pushed to put up much of a fight. In 2000 the only person who could have beaten Percy to gold was Loof and Iain went for him and the Swede ended up with bronze instead of silver. He was begging him to stop."
Simmonds: "Percy's job will be to try to keep himself between the Brazilians and the next mark. If you go to different sides of the course, the wind only has to shift a little bit and suddenly everything changes. So everywhere Scheidt goes, Percy will go. But expect Scheidt to keep one eye on defending his silver medal."
What Percy says: "It is like a one-race series for three boats - it's much more of a conventional race, but we've got a big battle on our hands."
How will the smaller "Nothe" course in front of the ticketed spectator area on the Weymouth cliffs affect proceedings?
Robertson: "The land is quite high in places, and with the prevailing south-westerlies we have had, it makes the wind unpredictable. It means the race is never over. If we get the forecast light winds, it makes it easier to perform the manoeuvres and control someone because they can't escape and speed away."
Ainslie: "It's a very difficult course, it's shifty, it's very tactical."
Hogh-Christensen: "It's a tricky course. I have a good track record in there, so I think it works a little bit in my favour."
Percy: "We quite like the fieriness of the short race. You need to come out really aggressively and respond fast and be alert, which suits our style. But it also means it throws up more random results and it's harder to come back."
What part will the crowd play?
Robertson: "Finals are noisy - helicopters buzz overhead, TV boats dash around. The leaders are all very experienced and won't panic, but I'm sure for the Britons, when they come around the top mark right beside the crowd, it will be quite a moment."
Simmonds: "The home-crowd atmosphere will be extraordinary. Ben is arguably the most intimidating sailor out there and won't necessarily need it to fire him up, but I wonder what effect it will have on the Dane."
Ainslie: "It will be amazing, a once-in-a-lifetime opportunity. I'm really looking forward to it."
Percy: "I'm sure it will be really inspiring. I don't know if it will necessarily make that much difference - sailing is all about wind shifts and waves. But it's going to be an amazing occasion and we're really grateful for it."