Olympics rowing: Great Britain reflect on golden Games
By Lawrence Barretto
BBC Sport at Eton Dorney
Last updated on .From the section Olympics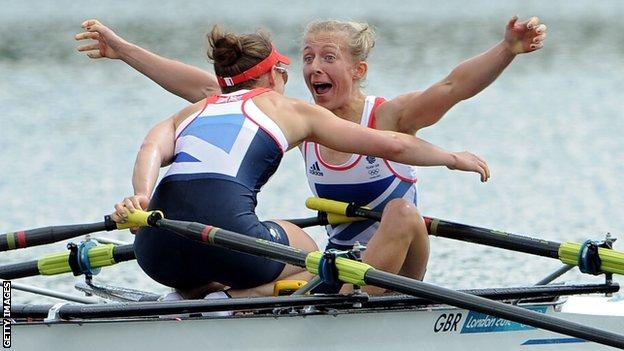 The British rowing team's performance at London 2012 shows they have transformed themselves into one of the strongest sporting set-ups in the world.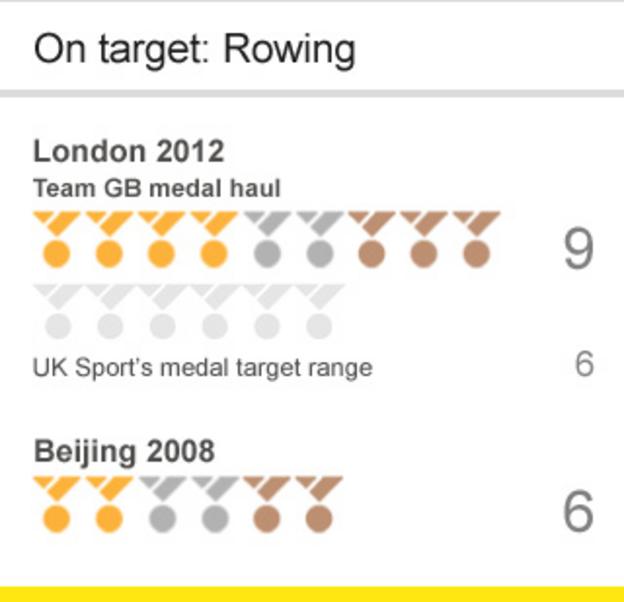 Great Britain won four golds, two silvers and three bronzes which not only exceded the target set for them but made them the most successful Olympic rowing team for a second successive Games.
Nine medals across 13 events was the result of a long-term plan that started more than two decades ago when GB performance director David Tanner and men's head coach Jurgen Grobler teamed up.
Boosted by lottery funding and inspired by Sir Steve Redgrave's five Olympic gold medals, the team sent scouts to schools to look for potential Olympians and then allowed them to train full-time in optimum conditions with the best coaches.
Great Britain's rowers, coaches and Redgrave reflect on Team GB's record rowing success at this year's Olympic Games.
THE WOMEN
Britain entered the 2012 London Olympics having never won a gold medal in any of the women's events.
Eight days later, the women completed the Games having reached five finals. Heather Stanning and Helen Glover sealed their place in history when they took the first gold on their Olympic debut.
Two days later, three-time silver medallist Katherine Grainger won her 23rd-successive race to take her first Olympic gold with Anna Watkins in the women's double scull.
Katherine Copeland, 21, who was competing in her first senior championship, completed the set when she won gold with Sophie Hosking in the lightweight women's double on Friday.
Women's head coach Paul Thompson: "It has been a fantastic regatta for British rowing. The Rio 2016 Olympiad has already started and we need to push them forward.
"Sophie and Kat were going fast in training, so we knew they had speed, but it was how they would handle the Olympics - and they did it. I've been coaching Katherine [Grainger] longer than I've known my wife, so to see her get across that line and take gold makes me feel so proud."
Copeland: "Coming into the Games, I tried really hard to convince myself that it's just another regatta, but when I crossed the line I realised it was the Olympics. It was just a brilliant feeling."
Grainger: "I've had a great few years but it's been a long, long wait for gold. This is the culmination of a lot of hard work because we only wanted one medal."
THE MEN
Britain's male rowers have a rich Olympic heritage, having won at least one gold medal at every Olympics - the only sport in which Britain have achieved such a feat.
Inspired by the success of Redgrave, Sir Matthew Pinsent and James Cracknell, the British men have improved year-on-year since 1996 in Atlanta and delivered their second best performance ever in 2012.
The men's four - Pete Reed, Andrew Triggs Hodge, Tom James and Alex Gregory - beat big rivals Australia to win gold, while the men's lightweight four and double were edged out for the same medal by South Africa and Denmark respectively. There were also medals for the men's eight, single and pair.
Men's head coach Grobler: "It's the best-ever Olympics for rowing and I think our medal total was the best we could get. It was a big, big result. There is no recipe to success - it's just hard work, consistency and belief in what you're doing is right.
"There was a big change in the thinking behind our sport in 1996 when we got the lottery funding. You can develop young people and you can find the right talent."
Pete Reed, men's four: "When your goal is so ahead of what you think you can do, it takes bravery to pull it off but we did it and it makes all the hours of pain worth it."
Alan Campbell, men's single: "I just couldn't take another stroke at the end of the race, but to stand tall with two of the best guys in the world, you could not ask for more."
THE VERDICT & THE FUTURE
GB rowing performance director Tanner: "We trained for this and I think the way we have managed the last few weeks has been exceptional. But there is work to be done - it doesn't stop today. We can build on this. If we had won six gold medals - we had two close ones - then you could say 'what on earth do you do next?'"
Five-time gold medallist Redgrave: "A lot of the team are talking about carrying on. Some people will stop - there's no doubt about that - but we have a very good under-23 team. They've been training with some of the Olympians on training camps and I think the future is good for the next four years."