Olympics football: Same outcome for GB footballers

By Paul Fletcher
BBC Sport at the Millennium Stadium, Cardiff
Last updated on .From the section Olympics203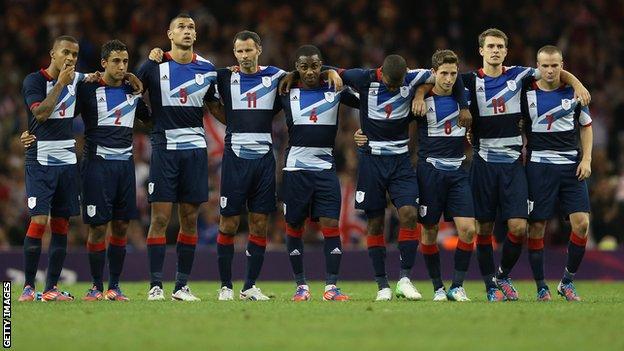 Never has a game of international football in this country felt so peripheral, so much like a sideshow as the gold medals rolled in for Great Britain at the Olympic Park.
And yet for all that was different to the normal sporting order, it was also so depressingly familiar.
The elimination of Stuart Pearce's team after a penalty shoot-out against South Korea brought with it a collective groan of disappointment from the packed house under the closed roof at an atmospheric Millennium Stadium in Cardiff.
Clearly, on a day of almost unprecedented success for Great Britain at the Olympics, when six gold medals were won, the magic dust of the 2012 Games did not extend to the men's football team.
The defeat followed England's Euro 2012 quarter-final defeat to Italy on penalties earlier in the summer, and joins a long list of heartbreak from 12 yards. This time it was Chelsea forward Daniel Sturridge who saw his penalty saved, the only one of 10 players to miss during the shoot-out after the match had finished 1-1 after extra time.
After the women's defeat against Canada in their quarter-final tie on Friday, it also brought to an end any hopes that GB might win a football medal at the Games.
Instead, GB are left to ruminate on how two teams that finished top of their respective groups failed to win what were seen by many as winnable last-eight ties.
The women, who competed in an open-age tournament, enjoyed some truly memorable moments, the highlight of which was a victory over Brazil in front of more than 70,000 at Wembley. And it might just be that the Olympics will prove to be a significant event for women's football in this country.
No such claims will be made for the men's game and what remains more than anything is the sense of a missed opportunity. The real frustration is that just one more victory would have guaranteed a shot at winning a bronze.
"There is a feeling of disappointment because we knew the victors of our match are assured of two matches and chances of a medal," said Pearce.
The men's team had been brought out of cold storage for London 2012 after a 52-year absence from Olympic football, although their participation has always been a thorny issue. The Football Associations of Scotland, Wales and Northern Ireland were always vehemently opposed to the idea, fearing it might jeopardise their status within world football's governing body Fifa.
And we are unlikely to see a GB football team at the 2016 Games in Brazil or any other Olympics in the near future.
Pearce is clearly a big fan of the idea but he knows that there are simply too many obstacles in the way. GB did not have to qualify for their home Games. That would not be the case for Rio.
He admitted: "Home advantage has allowed us to have this opportunity, but when you look at international programmes and bringing nationalities together, where are we going to find the time to enter a qualification period?"
When asked about whether she would like to see a GB women's team in Brazil in 2016, women's coach Hope Powell said: "For me personally and for the players, absolutely.
"If we get the opportunity again I would definitely give it the thumbs up," she added.
"The experience has been an incredible journey."
Possibly the greatest significance of Great Britain's participation in the football tournament is that it gave people an opportunity to support the home team during what is turning out to be an unforgettable couple of weeks. It brought Team GB to Manchester, Cardiff and, in the case of the women, Coventry, as well as London.
More than one million people have watched the football tournament so far and what is beyond question is that GB were very well supported. The families attending many of their matches created something different from what you will find during a domestic season. With their flags, face paint and Team GB shirts they generated what Pearce described as a carnival atmosphere.
It is obvious from listening to the players that they have thoroughly enjoyed being Olympians, none more so than Craig Bellamy, one of five Welsh players in the 18-man squad.
"It has been brilliant from the very first minute," said the 33-year-old. "It has been a pleasure, the support we had has been immense and it is something I will cherish for the rest of my life."
The players experienced life in the Olympic village and relished the opportunity to talk to competitors from other sports, exchanging ideas about training, diet and preparation.
The competition provided the Welsh players with a taste of major tournament football. For Bellamy and Manchester United veteran Ryan Giggs it will be only one of their careers.
"I would like other players to experience what I have, the Olympic attitude and coming up against different teams," said 38-year-old Giggs. "To captain the Great Britain team has been a privilege."
Who knows, the other three Welsh players - Joe Allen, Neil Taylor and Aaron Ramsey - might one day play at a major tournament for Wales. Pearce is adamant that what they and the rest of the younger players in his squad have been through will help them in their careers.
"The important thing is that all the players have had an experience to make them better and stronger," added the 50-year-old.
He reckons Sturridge will mature as a result of going through the experience of missing the penalty, and added that the only downside is that his team so narrowly missed out on a last-four place.
Winning a medal would have undoubtedly justified their involvement and ensured that football contributed to the home nation's success.
But what we are left with is the thought that no matter what kind of international football team you fashion on these shores, they still cannot win at penalties.