London 2012: Great Britain's women lead the way at Olympics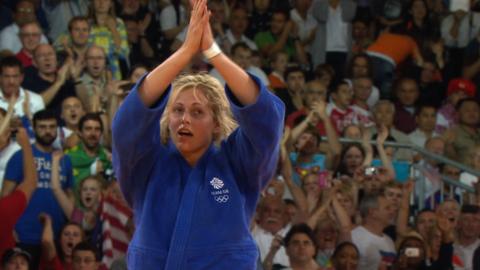 Gold for was one of Britain's historic moments on a Super Saturday where a record six titles were won, yet it is already an Olympics where new barriers have been broken.
It is the first Games in which every country has both men and women representing them, and the first in which women will compete in all 26 sports, boxing included.
There is also a higher proportion of female athletes than ever before - 44% according to official figures - so perhaps it is fitting that the women in the British team have provided many of the most compelling stories during an unforgettable opening week.
Of 37 medals won by the end of Sunday, there was a 23-12 split in favour of GB's men, with two silver medals also coming in the mixed doubles tennis and mixed team eventing.
Yet, along with Andy Murray after his revenge victory over Roger Federer, some of the defining images of London 2012 have come from the country's female athletes.
Bradley Wiggins, Sir Chris Hoy and Ben Ainslie may be among the most decorated Olympians from these isles but the achievements and personalities of Ennis, Rebecca Adlington, Victoria Pendleton and Gemma Gibbons have drawn us to them.
"I think the change at this Olympics has been the high-profile success of female athletes and the attention that has been given to the way they have dedicated their lives to sport," says BBC Sport's Clare Balding.
"I'm so thrilled that these strong, confident, competitive women are standing on the podium.
"It's hugely inspirational, particularly to teenage girls. You are seeing so many different body shapes and different types of women."
Not only have women provided perfect examples for those encouraging girls to take up sport, they have also been the leaders of the GB pack.
On the opening Sunday, cyclist Lizzie Armitstead was the first to get the British team on the medal table and she was followed by Adlington in the pool, who won bronze in the 400m freestyle.
Not content with just the one medal at her home Games, the swimmer went on to win another bronze in her favoured 800m event.
Five days in, who stepped up when the nation was beginning to wonder where the first gold was coming from? Rowers Hannah Glover and Heather Stanning - their crushing win over their rivals in the women's pair opened British female rowing's gold medal account at the Olympics.
Glover said: "I worked as a PE teacher for a few years before I started rowing and you can see how inspired youngsters can be by sport. So I think by seeing females involved in sport on our home stage, and a world stage, it is really inspiring.
"I remember people coming and talking to me when I was at school and the impact it had. Now I'm here [as a gold medallist], we're all really keen to give that back, go into schools and share our experience and excitement."
As if their medal was not enough, their coming together was a result of the sporting giants programme, where relative novices were fast-tracked into sports based on their genetic make-up and ability.
Then there is Katherine Grainger, 36, who provided an incredible example of perseverance by finally winning gold at a home Olympics after three previous silver medals.
That was all relatively straightforward compared to Pendleton's story. The 31-year-old has mixed collective triumph with personal despair following a camp-splitting romance with one of her coaches. Yet after a dip form, she proved once again she is the world's leading sprint cyclist with victory in the women's keirin.
Who could forget Gibbons's reaction in her semi-final where she completed an extra-time ippon on French world champion Audrey Tcheumeo to win a guaranteed silver medal? As she celebrated victory she looked skyward and said "I love you, Mum", remembering her mother who died of Leukaemia in 2004.
And Ennis, ubiquitous in the lead-up to the Games, feeling the weight of the country on her shoulders, but delivering an almost faultless display in the heptathlon.
She won GB's first athletics gold and laid the foundation for one of the best nights in the Britain's sporting history.
The women's football team also beat Brazil on a sparkling evening in front of 70,584 fans at Wembley and whenever you reflect on the London Olympics so far, it feels as if sportswomen have never been more cherished.
Now the challenge will be to turn that into something more concrete, with boosting girls and young women's participation a significant target.
"This is a real game changer," Balding added. "The impetus now needs to be behind getting more access to sport in schools for boys and girls, and allowing more working mothers and women over 20 the chance to play in team sports."