London 2012 international digest - Day Nine
Last updated on .From the section Olympics
A round-up of the latest news, views and gossip from the 2012 Olympic Games in London.
Royal visit for Bhutan archer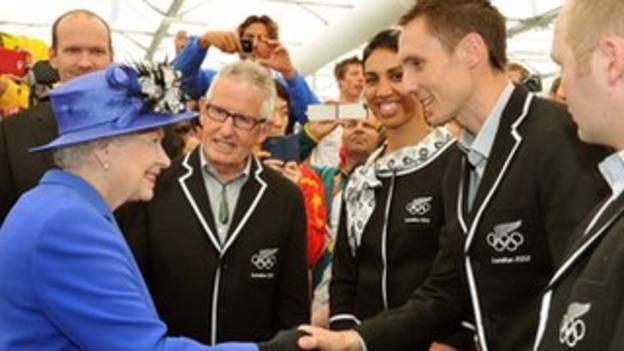 Bhutan archer Sherab Zam got more than she bargained for at the London Olympics, because she also got to meet the Queen.
Sherab, who is just one of two athletes competing for the remote Himalayan kingdom, met Her Majesty when she made an impromptu visit to the athletes' dining hall.
"I could not believe my eyes," said Sherab. "The Queen! I could never have dreamt this could happen to me. She was so cute, waving at us."
Sherab and her Bhutan team-mate, shooter Kunzang Chode, entered the Games on wildcards handed out by the International Olympic Committee to encourage developing countries. Archery is also the national sport of Bhutan.
"When I grew up I never dreamt I would come to London, let alone compete in an Olympics," said Sherab, who finished 61st in the women's individual event. "This just shows that anything is possible. The Olympics is great for that."
Badminton wedding bells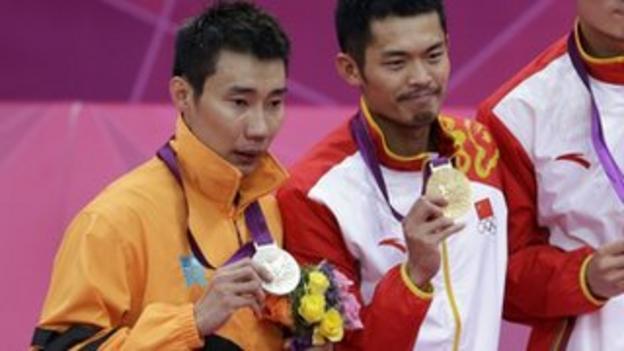 After wrapping up his second successive badminton title, China's Lin Dan had only one thing on his mind - his wedding celebrations.
During the post-match media conference, Lin invited his vanquished opponent and friend Lee Chong Wei of Malaysia to his wedding.
"I hope he accepts," said Lin, who has his loved one's initials tattooed on his right arm.
Lin said he had yet to decide on his future beyond planned a wedding bash.
The 28-year-old married Xie Xingfang, the retired two-time world champion and Beijing silver medallist, in 2010 but badminton's power couple have waited until after these Games to have the ceremony.
What next for Phelps?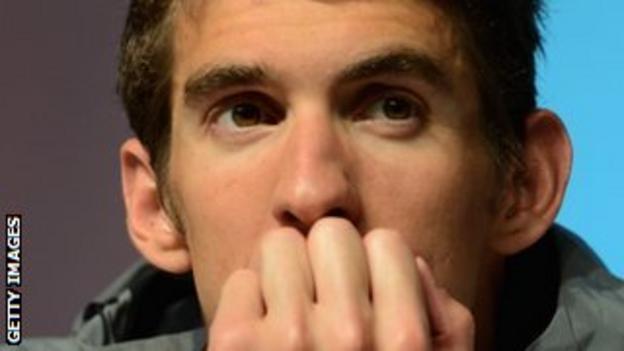 Apart from polishing his collection of 22 Olympic medals, American swimming legend Michael Phelps has been outlining his other plans one day after retiring from swimming.
"I want to travel a bunch," the 27-year-old said. "I've been able to see so many amazing places in the world but I've really never got to experience them.
"I'd like to experience some things, whether it's travelling through Europe or going back to Australia or South Africa.
"There are a lot of things I want to do around the sport. Being able to teach children how to swim and live healthily is something that's very important to me."
Asked whether he thought he could still be competitive at the next Olympic Games he said: "Sure, if I wanted to I could still go. But I'm ready to be done.
"I'm ready to retire and move on to other things."
The Phelps copycat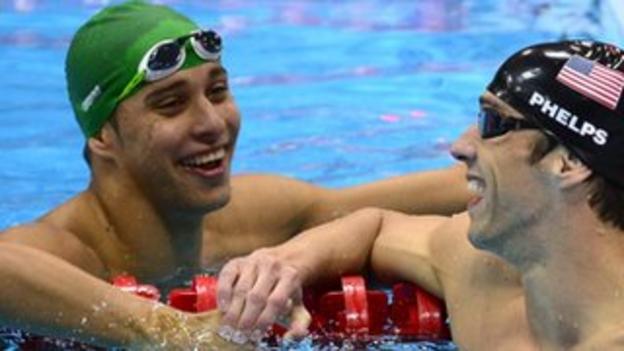 South Africa's Chad le Clos may have ended the reign of Michael Phelps with a dramatic victory in the 200m butterfly in London but the American only has himself to blame.
"He was the reason I swam the butterfly. It's not a joke," said Le Clos, who became the first South African man to win individual swimming gold.
"That's why I swim the 200m freestyle, both the individual medleys. I don't swim it for any other reason than just because Michael does."
Phelps was said to be "choked up" when he heard that he was Le Clos's hero and role model.
"It means Michael's done what he wanted to do: affect the sport of swimming," said Bob Bowman, who has coached Phelps to his record medal tally.
Japan's tsumani survivor bows out
World champion Tomoyuki Matsuda of Japan has failed to qualify for the final of the men's 50m pistol at the Royal Artillery Barracks.
Matsuda has been attracting attention as a survivor of the earthquake and tsunami that devastated Japan in 2011.
On 11 March last year, Matsuda was competing in the national airgun championship in Ishinomaki when an earthquake struck off the country's Pacific coastline.
Ishinomaki was close to the epicentre of the quake and Matsuda struggled to keep his balance in the shooting range.
As the full extent of the devastation emerged, Matsuda, who works as a police officer, asked to join the rescue mission. Instead he was told to leave for Australia and represent Japan at a World Cup event.
Charged with this responsibility, Matsuda responded by winning both titles in the 50m pistol and the 10m air pistol competitions but he was unable to translate that form to the Olympic Games.
Ukraine weighlifters pull out of Games
Two Ukrainian super heavyweights have joined the growing ranks of weightlifters dropping out of the Games.
The Ukraine Olympic Committee says Svetlana Cherniavska has not recovered from an injury she picked up a month ago and she will not compete in the women's +75kg competition which was due to take place on Sunday.
It also says men's super heavyweight Artem Udachyn was injured in training and won't take part in Tuesday's +105kg competition.