Olympics gymnastics: GB's Louis Smith may be 'pushed out' by Rio

By Ollie Williams
BBC Sport at the North Greenwich Arena
Last updated on .From the section Olympics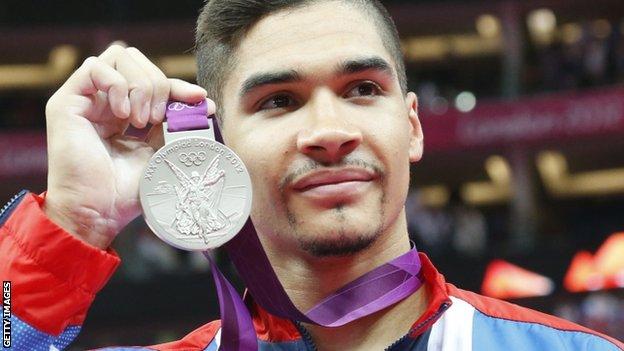 Silver medallist Louis Smith believes there may be no place for him in Britain's gymnastics team for Rio 2016.
"It's the juniors that keep me on my toes," he said. "I don't know whether they'll have a place for a pommel-horse specialist in future.
"I'll keep doing my thing and they can use me as long as they need me."
Britain's junior men have won the last three European championships.
Max Whitlock, who won bronze behind Smith at the North Greenwich Arena on Sunday, is a recent graduate from the junior system, along with Sam Oldham. The pair won team bronze with Smith, Kristian Thomas and Dan Purvis last week.
"If I'm pushed out it'll be by an amazing all-around team, challenging for a gold medal," said Smith.
"To get into that, I'd have to be performing on other apparatus as well."
Asked how realistic a challenge for team gold would be at the next Games, he added: "It's possible, we've seen what we can do.
"We've got six marks to claw up on China, but, in gymnastics, anything can happen. Look at Max Whitlock, qualifying in eighth and being able to get a bronze medal."
Coach Paul Hall admitted Smith had faced immense pressure prior to the Olympics, in the public eye as the face of several products and a regular presence on TV.
"I noticed a big difference between Beijing and London," he said. "The expectation in Beijing was far less. We were under the radar. We weren't really known by the press.
"Now he's a familiar face, he's got a lot of sponsorship and people were expecting him to win. It's a massive, massive pressure.
"It was difficult in the weeks before. He struggled to cope, but he managed it. He did a superb job and I'm very, very proud."