Jessica Ennis serves as Katarina Johnson-Thompson's inspiration
Last updated on .From the section Olympics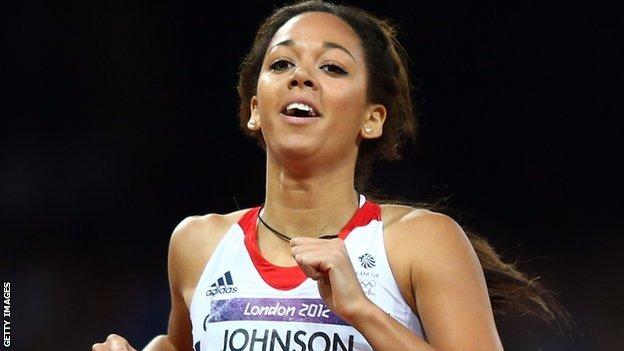 Teenage heptathlete Katarina Johnson-Thompson says Jessica Ennis's Olympic gold has inspired her to try and emulate the champion's feat.
Johnson-Thompson, 19, set a new British junior record as she finished 15th in her maiden Olympic Games.
"That's going to stick with me and is a huge inspiration. It's something I want in the future, said Johnson-Thompson.
She broke Ennis's British junior record in May and improved on that with 6,267 points at London 2012.
She was third place overall at one point after equalling her personal best in the 100m hurdles and setting a new personal best of 1.89m in the high jump.
And Johnson-Thompson ended the heptathlon with another personal best in the 800m.
"I thought the 1.89m was good but the 2:10.76 at the end was the absolute best," she added.
"I was crying all the way round the glory lap at the end and I was so emotional watching Jess.
"It's really inspirational as well - all the pressure Jess has been under and watching it all come out - I can't even say.
"I don't think Rio [Olympics] will compare to this as the home crowd is amazing, but I'd love to be doing a four-year countdown to reach Jess's standard.
"And we have the World Championships in 2017, which is here, so hopefully I'll be coming through then!"