Olympics BMX cycling: GB's Shanaze Reade ready for gold bid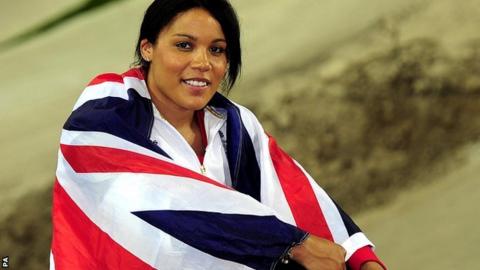 "It was the best thing that happened to me, to not win that Olympics," is a somewhat surprising admission by Britain's four-time BMX world champion Shanaze Reade.
Four years ago in Beijing, at the age of 19, she was hotly tipped to win the newest event in the Olympics, a manic race down a track full of jumps, bumps and tightly banked corners.
But Reade crashed out after attempting a bold overtaking move on the final corner, going for gold when she could have settled for a medal of a lesser colour.
"If I had won, I wouldn't have been a true Olympic champion because I didn't have all the ingredients it took to be the champion," she says candidly.
"I thought I was mature enough when I was there - but I stepped away and thought 'you have a lot of growing up to do'.
"I have matured a lot more. I have experienced a lot more and I am ready now. I am ready to take on the challenge of being an Olympic champion."
It has not been an easy ride, pardon the pun, as her experience in 2008 left her so low with depression she threatened to quit the sport because she was not enjoying being on a bike anymore.
She was also given a reality check by former BMX and Olympic track cycling gold medallist Jamie Staff. She took his advice on board and created Team Reade, working on both physical and mental conditioning, and she is now back for a second attempt at Olympic glory.
"After the last Olympic Games I had a kind of love/hate relationship with the Olympics," the 23-year-old said.
"But coming into this Olympics feels so normal and relaxed."
Reade will be in action on the specially constructed course near the velodrome at the Olympic Park on Wednesday as the seeding runs take place. The semi-finals and final will be fought out on Friday.
The Cheshire racer won the test event over the Olympic course in August 2011, which she described as her "personal career highlight".
"Racing in the test event was absolutely incredible and I have been buzzing since then," an animated Reade said.
"There were 3,000 people there and there are going to be 6,000 when we compete and I can't wait. I won in front of half of the crowd and it was such an amazing feeling."
She is among the favourites at London 2012, but will face stiff competition from France's world champion and World Cup leader Magalie Pottier, New Zealand's Sarah Walker and Colombia's Mariana Pajon.
And the nature of the sport means form is forgotten with eight riders jostling for position, heading over ramps at speeds of over 50 km/h and crashes a frequent occurrence.
But Reade admits it is not in her nature to ease off - hers is an all-or-nothing attitude.
"It comes with my personality. I train to be the best I can be and if that is fifth on the day I just want to do my absolute best. Since the last Olympic Games, for four years solid, I have worked hard to try and achieve my goals. I would be lying if I said I didn't want to go for a gold medal," she said.
Last time around, Reade felt the pressure to deliver gold because of British cycling's success in China. This time she feels inspired by the dominant displays of Bradley Wiggins, Victoria Pendleton, Sir Chris Hoy and co who have notched up eight golds on the road and track.
"I am mindful of the fact that everyone has been so successful," she said.
"I am sharing [a room] with Victoria Pendleton who is doing amazing out there. It makes it real.
"If another British athlete is winning then why can't you? It seems like everybody is feeding off the crowds. Victoria says it's absolutely phenomenal. I'm really excited about that."
So how much would an Olympic gold medal mean to Reade?
"This is the piece that is missing. I have won all these races but not the Olympics and that is what keeps the fire burning for me."