Usain Bolt - A unique and very special talent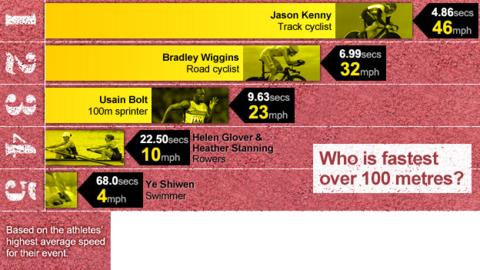 You can doubt other athletes all you want. They will fail, if only occasionally. They will bend to the laws of physics and physiology.
The same rules do not apply to Usain Bolt.
In retaining his Olympic 100m title in 9.63 seconds despite being, by his own admission, only 95% fit and after a season in which he has been beaten, injured and questioned like never before, the 25-year-old Jamaican reminded the watching world of something we were in danger of forgetting: he is not like the rest of us.
Bolt does not just make the impossible real; he can make it almost mundane.
His time of 9.69 seconds in the 2008 Olympic final once blew minds and reset parameters seemingly forever. Now that time is relegated to the footnotes, a metre down on his London calling card and more than 0.1 secs off his wondrous world best.
Sunday night's unequivocal excellence, however, was not about the numbers. Bolt came to these Olympics with a simple, singular aim: to confirm his status, once and for all, as a legend of the sport.
You might reasonably think he had already done enough. Bolt, a student of sprinting and its history, did not.
To him, his Beijing sprint double was a task only half completed. Only by retaining both titles, something no other man in history has ever done, would he be satisfied.
Even as the afternoon hours ticked away, there were still grave misgivings about his chances. Yohan Blake had beaten him - twice - at the Jamaican trials just a few weeks ago.
Bolt had not run since. Instead he had sought treatment from sports doctor Hans Muller-Wohlfahrt, his back and hamstrings said to be as unreliable as his summer form.
When Justin Gatlin, the 2004 Olympic champion, won the night's first semi-final in 9.82 secs, the quickest ever showing at that stage of a competition, the doubts swelled further. With fellow American Tyson Gay, the second fastest man in history, also going to his blocks, this was the highest quality field ever assembled in a major global final.
Oh ye of little faith.
Bolt not only got out fast - quicker than either Blake or Gatlin - but he left his rivals behind as if sucked away by a jet-engine's thrust.
Blake's 9.75 secs for silver was nowhere. Neither was Gatlin's 9.79 secs for bronze. Both were personal bests, yet in a narrative written by Bolt's brilliance, these things are reduced to afterthoughts.
London, stunned and screaming, had witnessed the quickest 100m final ever.
Seven men went under 10 seconds, beating the previous record of six, achieved at both the 1991 World Championships and 2008 Olympics in Beijing. The times for the athletes finishing from third to seventh were the fastest ever registered for those positions.
Had Asafa Powell not popped his groin and limped over the line, all eight finalists would have gone under 10 seconds for the first time in history. Since Powell's nominal 11.99 seconds would have won the 100m final at the first Olympics in 1896, there was neatness regardless.
With Bolt away in a golden blur, none of it mattered anyway.
You could lose yourself in arguments about how Sunday's time compared to his Berlin best - a tailwind of 1.5 m/s here to 2009's 0.9 m/s, the comparatively fresh 17 Celsius of London less conducive to record-breaking than Germany's mid-summer warmth.
To do so would be to neglect the impact this man has on the wider world.
There is good reason one million people applied for tickets for Sunday night's session at the Olympic Stadium. This is not just the biggest single contest in the planet's biggest sporting occasion, but one of a finite number of opportunities to witness the greatest sprinter that has ever lived do what no athlete has ever done before.
Every Olympic 100m champion in the last 32 years was there to watch - Maurice Greene, Donovan Bailey, Linford Christie, Carl Lewis and Alan Wells.
Since Bolt is more than just athletics, it did not stop at sprinters. At one point, I looked around to see Lennox Lewis, John McEnroe and Kobe Bryant all within hailing distance.
Bolt worked for this win. The strength of the field meant he could not celebrate from 15 metres out as he had four years ago.
It merely made for a superior script. Only in Gatlin's bronze, after two long doping bans and a reputation at rock-bottom within the sport, could there be displeasure.
That Gay, universally liked by his peers and undervalued by the public at large, should miss out on his first Olympic medal by 0.01 secs to a man like Gatlin and leave the track in tears was a sad sub-plot.
Gay has run two of the five fastest 100m races of all time - 9.69 secs in Shanghai three years ago and 9.71 secs in Berlin the same summer. Because he has done so in the era and races of Bolt, only the aficionados will pay sufficient dues.
Bolt, as ever, was in the mood for partying - cavorting, clowning, delighting the capacity crowd with his full range of showman celebrations.
"People can talk," he shrugged afterwards, in a brief moment of sober reflection. "All they can do is talk. I brought it. I know what I need to do."
That may well have been Bolt's last ever Olympic 100m. Few sprinters maintain a physical peak across eight years or a mental desire to stay at the top once they have conquered every challenge confronting them.
By the time the 2016 Games in Rio de Janeiro come around, Bolt will be approaching his 30th birthday. If track still holds his focus, it is more likely to be over one lap than the single straight, the goal an unprecedented domination of three distances should the pain of 400m running not turn his sated stomach.
In case any of us were feeling a little wistful for that reason, or that a contest so eagerly anticipated for so long is over in such a beautiful blink of the eye, Bolt gave us a little reminder before he left the stadium that something even more stunning may be just round the curve.
"I really want to do something special in my 200m," he said, teasingly, to reporters waiting to interview after his 100m triumph.
His own world record of 19.19 seconds? Incredibly, impossibly, the 19-second barrier itself?
"It's been on my mind for years and years," he said, with as straight a face as he ever could.
"This season, on this track, feeling confident... we'll see."