Oscar Pistorius satisfied with 400m Olympics display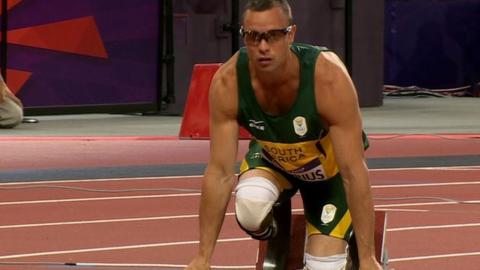 Oscar Pistorius maintains he achieved his Olympic target and that his participation at London 2012 was not about proving a point.
The South African 400m runner, 25, made history as the first amputee sprinter to take part at the Olympics.
Pistorius came second in his heat but finished eighth in the semi-final on Sunday.
"I didn't come here to prove a point. I wanted to do the best I could do and push myself as hard as I can," he said.
"I am struggling to find a way to describe it. It is really humbling all the support I have had.
"It has been an unbelievable experience. Just being out in front of that crowd - 70,000 felt like 170,00 - was an unbelievable experience."
The four-time Paralympic champion's legs were amputated below the knee when he was a baby.
The Court of Arbitration for Sport cleared him to compete against able-bodied athletes in 2008.
Pistorius finished second in his 400m heat in a time of 45.44 seconds to reach Sunday's semi-final.
But he could only manage 46.54 seconds and finished eighth, missing out on the final.
The South African will return to the Olympic stage for the 4x400m relay before turning his attention to the Paralympic Games.