Olympics shooting: Matt Emmons wins three-position rifle bronze
Last updated on .From the section Olympics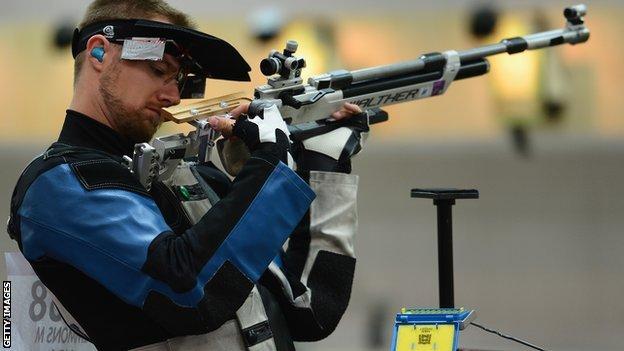 Matt Emmons had to settle for bronze in his bid for an elusive gold medal in the men's 50m three-position rifle.
The American's score of 1271.3 earned him third spot behind gold medal winner Niccolo Campriani (1278.5) of Italy and South Korea's Kim Jong-hyun (1272.5).
Emmons had led going into the final shot in the event both in 2004 and 2008 only to dramatically blow his chances.
He fired at the wrong target in Athens, while his gun went off accidentally while still lining up in Beijing.
Emmons was second with a 1.6-point lead with one round to go but hit comfortably the worst shot of the final, a 7.6, allowing Kim to snatch silver with a 10.4.
"Anytime you can be on the podium at the Olympics is a pretty cool thing," said Emmons. "After the last shot I looked down and thought 'hey, I got bronze, cool!'
"I couldn't see the monitor or hear the announcer, so when it was over I just looked to see where I was.
"The one thing I'm happy about - and it's not the favourite match I ever shot - but I got everything honestly.
"If I'm nervous and make a mistake then I make a mistake, and that's what happened."
For Campriani, it was the Italian's second medal of the Olympics after he won silver in the men's 10m air rifle.
"Matt is incredible, in Beijing he was smiling after 10 minutes, it was the most amazing thing I have ever seen on a shooting range," he said.
"He's an inspiration to me and a great champion."
Emmons, the 2004 Olympic 50m rifle prone champion, had qualified in second place at the Royal Artillery Barracks, however Kim edged ahead of him in the final with a score of 101.5, the highest of all the remaining competitors.
Emmons' appearance at these Olympics comes after a battle with thyroid cancer and, although he has now recovered from the illness, he admits the experience has put his sporting disappointments into perspective.
Speaking before the Games, he said: "I know what people know me for, but I take it with a grain of salt. I'm really proud of the way I handled those situations.
"I play to win but I understand you're not going to win every match and there are things much more important to life than pulling a trigger and winning medals.
"I have my health and a family, and that's way more important than this game will ever be."
His Athens medal heartache also contributed to his new-found sense of perspective.
The Czech shooter Katerina Kurkova, who had been commentating on the final as Emmons missed the target, approached him to offer her commiserations and it marked the start of a romance between them, culminating in their marriage three years later.