Dai Greene's development includes football and music
Last updated on .From the section Olympics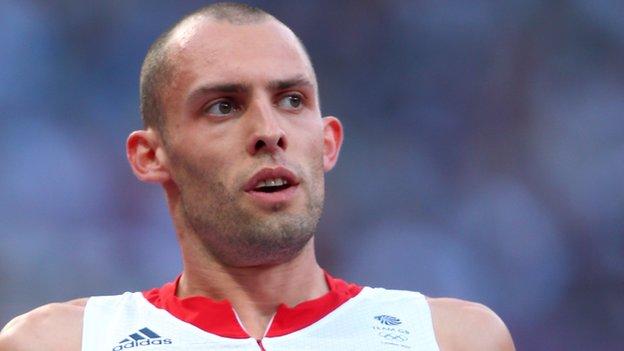 Great Britain's athletics captain Dai Greene has revealed how a specially-written music track has helped him in his build-up to the London 2012 Olympics.
But the 26-year-old would not be competing in athletics at all if it had not been for an enforced move from football as a teenage.
Greene, 26, who was crowned 400m hurdles World champion in 2011, has been working with music producer DJ Redlight to create a track he listens to before racing against rivals such as Felix Sanchez and Javier Culson.
"Most athletes listen to music during the warm-up," said Greene.
"One of my sponsors...came to me with the idea of linking up with a DJ or an artist to create a track that was designed specifically for me, using psychological input from a specialist as well.
"We got together and devised a song that would work for me that I could listen to and warm up to before races."
The Llanelli runner has enjoyed a meteoric rise since choosing athletics over football as a youngster.
Greene played youth team football for Swansea City in his early teens, even scoring a penalty against the juniors from Real Madrid.
But after contracting Osgood-Schlatter disease, which affects the knees, he switched to the running track.
A gold medal at the 2011 World Championships added to his European and Commonwealth titles from the previous year.
And Team GB's athletics captain ran a 47.84 second personal best at Paris in July, that was just short of Kriss Akabusi's British record of 47.82sec.
Knee surgery in December failed to slow Greene, and he has been helped on the road to recovery with his musical project.
"Obviously at the Olympic Games, music is a big part of every athlete's warm up," added Greene, who was also diagnosed with epilepsy as a teenager.
"We not only use it to distract ourselves from everything that's going on around us but also, without realising it, set the tempo in our heads, set the mood.
"It was a very exciting thing to do, it's something that hasn't been done before."
Greene's venture into the world of music offers some light relief from his arduous training schedule.
But he is quick to dismiss suggestions that his life is restricted.
"People say you must make loads of sacrifices but I don't see it as a sacrifice if I choose to give it up," he said.
"I want to be the best athlete I can and if something means that I'll be a better athlete then I'll happily give it up.
"When you win those gold medals at the end of the season, it's always worth it."